formerly Side by Slide
We may not catch everything, but then, the fishing's half the fun, right?
49 S. Baldwin Ave., Ste. F, Sierra Madre, CA 91024 (626) 355-0510
Back to sidebyslide.com
Last updated Jan. 01, 2001
Chamber of Commerce Bunny Hop Shop
Saturday, April 22, 2000
There are more Bunny Hop pictures here. (Grandma Jelly's Toys, The Bottle Shop). There were other participating merchants, but I had a plane to catch and could not attend every stop.
There are Bunny Hop pictures from the 15th here, (Savor the Flavor, Once Upon a Time, Millie's Dancewear)
and here, (Easter egg hunt in Renaissance Plaza with Eastwicke Village and Briana Salon)
and here,(Little Stuga, Happy Jack's Video).
Shop Side by Slide here!
1. The Bunny started off at K's Deli
2, 3. Where he munched a carrot sandwich with the owner's kids.
4, 5. The residents/students of Climb were especially jazzed about the Bunny's visits.
6. Then he was off to the Wild Rose.
7, 8. The kids wanted their picture taken with the Bunny
9. Wild Rose owner Mary Santos didn't, but we took it anyway.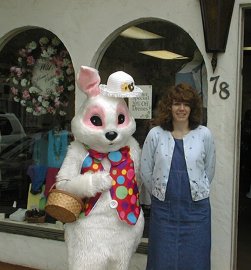 On-line Subscription E-paper Area
Non-Subscription Area
Shop at Side by Slide's online mall here! (benefits the Sierra Madre Rose Float Association and the Cystic Fibrosis Foundation)
Send an e-mail to Sierra Madre News Net here
Copyright © 2000 by Sierra Madre News Net, Sierra Madre.
All trademarks or product names mentioned herein are the property of their respective owners.
All photographs Copyright 2000, Bill Coburn, Sierra Madre, CA unless otherwise noted
Any reference to the City of Sierra Madre or Sierra Madre applies to the community of Sierra Madre and not the city government. The City of Sierra Madre, California government is not affiliated with Sierra Madre News Net at this time. Any city government information provided herein has been previously published for public dissemination and is shown here as a public service of Sierra Madre News net without explicit permission of the government of the City of Sierra Madre.
Graphics for News Net logo by Sierra Madre Graphic Artist Gwen Gordon