---
Harry Shahoian, aka Elvis (click photo to enlarge)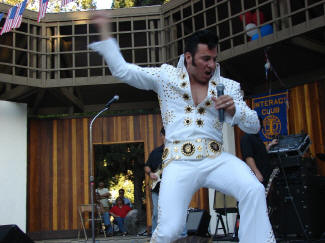 Local boy Harry Shahoian grew up to be Elvis. He does Elvis so well that he has worked at the MGM Grand in Las Vegas, in the Legends of Rock and Roll Show, at the Orleans, and other locations in Las Vegas. This page has links to photos and video of Harry performing in town. Some years, he's performed at the Concert in the Park, and brought a band with him that included George Trullinger, who performs as Buddy Holly and produced the Legends show, more recently he's appeared with Frankie Moreno and band.
For the last several years, the Elvis Concert in the Park has been sponsored by Sierra Madre Rotary Club.
Harry's website: www.harryaselvis.com.
Pictures and videos from some of Harry's appearances in Sierra Madre and elsewhere
2009 Rotary Sponsored Concert in the Park, click here
2008 Rotary Sponsored Concert in the Park, click here
2007 Rotary-sponsored Concert in the Park, click here
2006 Rotary-sponsored Concert in the Park, click here
2005 Rotary-sponsored Concert in the Park, click here (coming soon)
2004 Rotary-sponsored Concert in the Park, click here
Local "Elvis" Harry Shahoian Makes Good, Meets Armenian First Lady, Raises Funds for Charity
Sierra Madre Rotary Club-sponsored Concert in the Park, 2003, click here
Sierra Madre Rotary Club-sponsored Concert in the Park, 2002, click here
ACS Relay for Life, 2000, click here
Citizen of the Year Banquet, 1999, click here
Sierra Madre Rotary Club-sponsored Concert in the Park, 2002
Videos, click to view
Pictures, click to enlarge
| | | | |
| --- | --- | --- | --- |
| Sierra Madre's own Harry Shahoian | Harry performed at the MGM Grand in the Legends of Rock show, produced by George/Buddy | | |
| | | This was a silhouette, till the software got it | |
| What a show, Elvis and Buddy Holly on the same stage | Now where's he going? | Oh THAT'S where he's going | Usually, HE does the scarf placing |
| | Don't wireless mikes add to the show? | The crowd, by far the largest this year, applauds | |
Videos (times at end of link are approximate 56k download times)
About 60 seconds of Hound Dog - 3:00
About 40 seconds of I Don't Care, followed by about 20 seconds of talk - 4:25
About 15 seconds of Suspicious Minds - 1:15
Pictures, click to enlarge
1998 Citizen of the Year Dinner, Jan. 1999

---