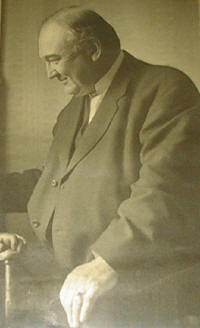 E. Waldo Ward
For more on our history, click here
Four generations of Wards have brought you the finest in gourmet jams, jellies, marmalades and so much more. And now we'd like to share our tradition with your family. We make all of our products in our own kitchens to assure you the finest quality possible. So enjoy your shopping experience and let us know your thoughts.
We make a Wistaria Jelly from the finest ingredients possible. The sweet jelly was created for Sierra Madre, California's annual Wistaria Festival. Sierra Madre has the world's largest wistaria vine and March is the time of the year when the blooms are at full color. Taste the vine for yourself with our wonderful jelly. For a limited time only so stock up. Only $3.50!

Our delicious products make terrific gifts, especially for your relatives who live far away. We feature individual items, or specially prepared gift baskets and gift boxes. We will enclose a gift card (during checkout at our website, waldoward.com, you will be given an opportunity to fill out a gift card). For multiple gifts, it is best to set up an online account (see our shipping page).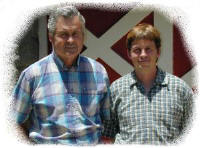 Carrying on the E. Waldo Ward tradition today are Richard Ward, the third generation, and Jeff Ward, the fourth.
In 1995, www.WaldoWard.com opened its virtual doors offering the finest jams, jellies, and other products all made by E. Waldo Ward & Son. But, our history goes back to 1891, when Edwin Waldo Ward, Sr. came to Sierra Madre, California to pursue his dream. Today, you can shop 24 hours a day and learn about new and exciting products, find recipes and exchange information.