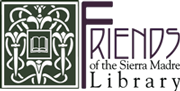 Press Release posted 7/14/12 – If your stack of summer reading material is getting low, the best place to replenish the stack is at the Friends of the Sierra Madre Library's Best Used Book Sale being held on Friday, August 3, from 3:00-7:00PM and Saturday, August 4, from 10:00AM-2:00PM.  The library is located at 440 W. Sierra Madre Blvd. in the city of Sierra Madre.
Best Used Book Sales co-chairs, Martha Troedson and Alan Leahy, say the sale features a number of lovely coffee table books on gardening, art, history and contemporary culture.   For the history buffs, there is a collection of Civil War books.  And just in time for school, a number of dictionaries and references will be on sale.  These items and many other adult fiction and non-fiction books, audio books, CDs, and DVDs will be available to purchase for your reading and listening pleasure.  For the children and teens, we have many books and DVDs, including pop-ups.  We still have some bound vintage copies of Life, Saturday Evening Post, and National Geographic that contain articles of historical interest and are fun to look at for the fashions and advertisements.   The bargain tables in our parking lot will offer hardback and trade fiction and non-fiction for $1-2.00 each and paperbacks for twenty-five cents each (or five for $1.00).  This month's bargain tables feature many resource and practice books for teachers and cookbooks.  All children's bargain books are five for a dollar.  Proceeds from the Best Used Book Sales are donated to the Sierra Made Public Library to support program and equipment needs.
Because the markets are encouraging us to use cloth bags, our supply of paper shopping bags is rapidly diminishing and we'd appreciate your bringing your own bags and boxes when you come to the Sierra Madre Library on Friday, August 3, and Saturday, August 4, for an opportunity to purchase some of the best used books around at the Friends of the Sierra Madre Library's Best Used Book Sale.