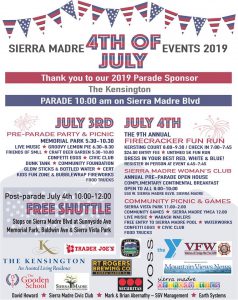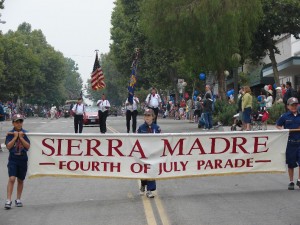 The Fourth of July in Sierra Madre is a very big deal. They say "Half the town marches in the parade, the other half is watching." People come from all over the southland for the festivities, and when the 4th falls on a weekend, it's eeeextry goooood. Concerts in the park, movies in the park, antique calliope shows (some years), food and beverage booths in the park (including the traditional beer garden) and so much more. Make your plans to join us this year. But celebrations don't come without a lot of hard work. Kudos to the 4th of July committee for their hard work…
To contribute to help pay for these events, send a check made out to Sierra Madre Community Foundation, naming the 4th of July Committee in the memo section of the check, to:
axbdkljeilijeoijfl a boijjioj oiojoiojlj ijoioj oo ooiuj4th of July Committee
axbdkljeilijeoijfl a boijjioj oiojoiojlj ijoioj oo ooiujPO Box 1073
axbdkljeilijeoijfl a boijjioj oiojoiojlj ijoioj oo ooiujSierra Madre, CA 91025
2015 Schedule:
Fourth of July Schedule of Activities
Press Release posted 6/28/15 – Sierra Madre Fourth of July Festivities – www.sierramadre4thofjuly.com
Pre-Parade Party & Picnic: The fun begins on July 3rd from 5:30pm-10:30pm in Memorial Park. Grab a drink at the Friends of Sierra Madre Little League beer garden, dance to music from the band Groovy Lemon Pie and let your kids have fun with confetti eggs, bubble wrap fireworks, and a fun zone!
Sierra Madre Fourth of July Firecracker Fun Run:Registration is still available for the Firecracker Fun Run sponsored by the Spero Foundation. The run is Saturday, July 4th at 8:00am. Entry fees are $26 for all ages. To register online, please visit our website. For more detailed event information click here.
Sierra Madre Woman's Club Pre-Parade Open House:Complimentary Continental Breakfast, open to all 8am to 10am, 550 W. Sierra Madre Blvd.
Fourth of July Parade: Don't miss out on the biggest event in town, where the whole City is either in the parade or watching it! The action starts at 10:00am with the parade beginning on Sierra Madre Blvd. and Sunnyside. The parade route continues along Sierra Madre Blvd. until the conclusion at Sierra Vista Park. The Fourth of July Committee would like to thank the Kensington for being the 2015 Parade Sponsor!
Community Picnic & Celebration: The festivities continue after the parade in Sierra Vista Park from 11am-3pm. Join us for live music, free entry into the pool, community games, kids' fun zone and food trucks. There will also be a free shuttle running to and from Sierra Vista Park from 12:00pm-3:45pm
FREE SHUTTLE
12:00pm – 2PM to and from the Community Picnic at Sierra Vista Park
Stops on Sierra Madre Blvd @ Sunnyside, Memorial Park, Baldwin & Sierra Vista Park
for more info: www.sierramadre4thofjuly.com, e-mail: 4thofjulysierramadre@gmail.com or call the Community Services Department at 626.355.5278
Sierra Madre Fourth of July For almost 50 years the Sierra Madre Community has joined together in celebration of the great American tradition with music, picnics, games and the ever popular 4th of July Parade. Residents and guests crowd Sierra Madre Boulevard to watch youngsters on their patriotic bikes stroll down the route along side hometown heroes like the Sierra Madre Search and Rescue Team and Sierra Madre Fire Department. The Official Sponsor of the 2016 Parade is The Kensington. The Kensington-Sierra Madre is an assisted living and memory care residence in the heart of Sierra Madre, along the parade route. The Sierra Madre 4th of July Committee is pleased to honor Pete Siberell as the 2016 Fourth of July Parade Grand Marshal. "The Grand Marshal is a person or persons whose efforts over a long period of time has been beneficial to the community of Sierra Madre. The title of Grand Marshal is intended to honor a person or persons' volume of work, dedication and overall enhancements to our community." Pete is a shining example of this. Since Pete and his family moved to Sierra Madre he has been involved with a number of community efforts including Sierra Madre Little League, Friends of the Library. Library Board of Trustees, Pasadena Humane Society and of course is known years of work with the Mount Wilson Trail Race. Pete has dedicated thousands of hours to make sure Sierra Madre is a great place to live, work and play. Pete and his family blaze the trail living the Sierra Madre spirit everyday, Sierra Madreans that make a difference. Additionally, the Committee is proud to be recognizing Hometown Hero Kris Lowe for her years of dedicated service to the Sierra Madre community. A lifetime Sierra Madre resident Kris is a well-loved retired Captain from the Sierra Madre Volunteer Fire Department (SMVFD), she served the community for over 15 years. She continues to volunteer her time to her community through charitable events such as the Friends of the Library Wine Tasting, Wistaria Festival & the SMVFA. She is also the newest member of the Sierra Madre Community Foundation. Kristine is currently a teacher with the Glendale Unified School District, and the coordinator for the Public Safety Academy at Hoover High School, a program which certifies youth for disaster preparedness and emergency response. She truly is preparing the next generation of heroes. Grease Sing-Along – join your neighbors as Pink Ladies and T-birds as we kick the weekend off with a sign-along showing of Grease in Memorial Park starting at dusk. Snacks will be on hand as well. Pre-parade Party – before the parade on the 4th, the town will be rockin' in Memorial Park for the Pre-Parade Party & Picnic on Sunday, July 3rd from 5:30 – 10:30 pm featuring the outstanding local rock music of Groovy Lemon Pie and for the not to be missed Bubblewrap fireworks at 8:00 pm. Kids and grown-up alike stopping on hundreds of square feet of bubble wrap making the sounds of shooting fireworks. Other park activities include the Friends of SMLL Beer Garden (sales benefit youth sports), Civic Clubs famous confetti eggs, Sierra Madre Community Foundation Dunk Tank (where you might be able to dunk a local politician) and tons of food for purchase.  Page 2 June 29, 2016 Community Picnic Dunk Tank Schedule for Sunday July 3rd – Memorial Park 5:30 PM Elisa Cox, Assistant City Manager 6:00 PM Sue Berhrens, Alverno High School 6:30 PM Rachelle Arizmendi, Mayor Pro Tem 7:00 PM Grand Marshal Pete Siberell 7:30 PM Ryan Baker, NEW Library & Community Services Director 8:30 PM Jim Annes, 4th of July Chair 8:30 PM Kris Lowe, Hometown Hero And in the morning (July 4th) folks are asked to hit the streets for the 6 th Annual Spero Foundation's Fire Cracker Fun Run. Shotgun start at 8:00 – 9:30 am (check in 7:00 – 7:45 am) in Kersting Court. This unofficial 5K Fun Run is geared for the entire family to enjoy – although untimed a clock is provided. All runners and walkers of all ages welcome. Walkers with strollers and dogs on leashes are encouraged to participate as this is a true community event! Registration is available online at www.cityofsierramadre.com/onlineregistration The cost is $26.00 per entry regardless of age and you can still register. All participants will receive a custom 2016 Firecracker Fun Run medal! We highly encourage everyone to dress up and show their patriotism with the most creative outfit possible RED, WHITE & BLUE- so show your support for the Stars and Stripes. Immediately, following the 5K is the Annual 4th of July parade which kicks off at the corner of Sierra Madre Blvd. and Sunnyside Avenue at 10 am sharp! Parade travels down Sierra Madre Blvd to Sierra Vista Park where the party keeps going. The after-parade Community picnic & Celebration starts at 11:00 am with featured Music from the Wabash Wailers. Sierra Madre Pool will be open for FREE and the highlight of the afternoon are the games with the park with the ladies of Civic Club. Wanna throw water balloons at your friends, or challenge your folks to a three-legged race or sack race. This is the place to be. There will also be a Home Run Derby and food for sale. To assist visitors in getting around there is a FREE SHUTTLE on the 4th from 12:00 – 2:15 pm to and from the Community Picnic at Sierra Vista Park. Stops on Sierra Madre Blvd @ Sunnyside, Memorial Park, Baldwin & Sierra Vista Park. For more information or to donate to support the activities of the Sierra Madre 4th of July visit www.sierramadre4thofjuly.com. The volunteers of the Sierra Madre 4th of July Committee extends our gratitude to all the members of the Sierra Madre community for their generosity, support and donations. Every penny counts and this event could not happen without you. Thank you. Parade Title Sponsor – The Kensington Media Sponsor – Mountain View News Patriot Sponsor Securitas Axontech Sierra Madre Civic Club Trader Joes Red, White and Blue Sponsors The Buccaneer Lounge Century 21 Village Realty Alverno High School Berkshire Hathaway Home Services  Page 3 June 29, 2016 Sierra Madre Animal Hospital Bethany Christian School Sierra Madre Garden Club Santa Anita Park Fakoory family, Barbara Hopp, Dr. Julie Hagie, Kathy Campbell, Patrick Holland All- American Sponsors Best Buy Drugs West Coast Arborists Daughters of the American Revolution Poppy Cake Baking Company James Foster, Pat & De Alcorn, Hannah Dvorak-Carbone, Kate & Tom Cook, Shannon King & Frank Moore, Decker Family, Doug Hayes & Dr. Janice Nelson, Pelorf Family, M. Schryver, DelaPazFamily, Dason Family, Coleman Family, Enmark Family, Matchin Family, Keith Latham, Paul & Jo Hanson