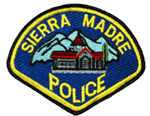 Posted 8/6/12, updated 8/6/12 – Tuesday July 31, 2012
– Unknown suspects forced entry into a residence in the 500 block of Sierra Meadow Drive. The residence was under construction at the time and entry was made by prying off a wood panel that secured the front entryway.  Two laptop computers were removed from the living room but there was no other property taken or evidence of ransacking.
– A resident parked her vehicle on Laurel Avenue near Lima Street leaving her purse on the floorboard.  When she returned three hours later she discovered the right front passenger window had been broken and the purse gone. It was later determined that her credit cards were used at three retail locations in Monrovia and Duarte. Detectives are obtaining video from the locations in an attempt to identify the suspect.
Wednesday August 1, 2012
– Unknown suspects entered a classroom on the Sierra Madre Middle School Campus by climbing into an unlocked window.  While inside, the suspects ransacked the supply cabinets and then broke out a window.  Damage is estimated at $125.00.   The school was the victim of a burglary on July 25th.  Two juvenile subjects were arrested in that earlier incident.
Sunday August 5, 2012
At approximately 7:45 pm, a male was observed walking onto a residential property in the 100 block of South Lima Street. The male disappeared from sight for a few minutes then was observed exiting the property and walking southbound on Lima Street.  When the resident returned to the house, she discovered that cash and small items of value were missing from the residence. It is unknown how the suspect entered the residence.
A few minutes later a male of similar description entered the Sierra Madre Methodist "Old Church" at 191 West Sierra Madre Boulevard where services were taking place.  When confronted, the male stated he was looking for a restroom. He entered the rest room and was observed leaving the church a few moments later. After he left, a parishioner discovered that cash was missing from her purse that had been kept in the guest room.
The suspect description in both instances is similar – Male Black 40-50 years of age 6'0"tall weighing 180 pounds. In the Lima Street incident, the suspect was observed wearing a yellow button down type shirt.  In the Methodist Church incident, the suspect was observed wearing a beige leather jacket, black pants and carrying a straw hat.