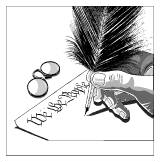 Press Release posted 9/23/12 – If you are in Jr. High or High School and live in the 59th Assembly District, you are eligible to enter the 2012 Constitution Essay Contest!
Please submit an essay of 400 – 800 words describing which signer of the Constitution you admire most and why.
Please submit all essays via e-mail to Assemblymember.Donnelly@assembly.ca.gov and title all entries with the Subject Line: Constitution Week Essay: your last name.
In the body of your e-mail, please include your full name, contact number, age, and name of the school you attend.
The winner of this year's contest will be flown to Sacramento for a special day in the California State Capitol and receive Assemblyman Donnelly's "Writer of Liberty" Award.
Entries will be accepted through Friday, November 9th and the winner will be announced just in time to celebrate our nation's beginnings this Thanksgiving!
Please e-mail any questions to Assemblymember.Donnelly@assembly.ca.gov , or call (760) 244-5277.