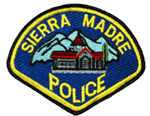 Posted 9/24/12 – Sierra Madre Police Department, Police Blotter Report, September 17-23, 2012
Saturday, September 15, 2012
At 9:15pm, a resident on Mountain Trail Avenue was inside his residence when he heard the sound of a traffic collision outside.  He went outside to investigate and found his vehicle, which had been parked at the curb, had been sideswiped by another vehicle.  The other party left the scene without leaving a note or any identifying information.
Monday, September 17, 2012
An officer observed a traffic violation occur on Michillinda Avenue and subsequently stopped the vehicle.  During the stop, the officer discovered that an unloaded handgun was in the center console within reach of the driver and ammunition for the weapon was nearby.  The driver, a 35 year old male, was arrested for carrying a concealed weapon in a vehicle.
At 3:30pm a vehicle versus bicycle collision took place on Monterey Lane just south of Sierra Madre Boulevard.  A child riding his bicycle on his residence driveway entered the roadway and was struck by a vehicle travelling southbound. The child sustained a number of visible injuries and was transported to a hospital for treatment.
Saturday, September 22, 2012
At 7:45pm, officers observed a vehicle travelling southbound on Michillinda Avenue at a high rate of speed. After stopping the vehicle, the officer determined that the driver had been drinking and his driving impaired.  The driver (male 58 years of age) was arrested for DUI.