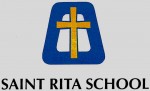 Press Release posted 10/10/12 – Don't miss Sierra Madre's biggest Fall celebration as St. Rita School presents their annual Harvest Festival, Oct. 26 and 27.  The two-day family event offers something for everyone, from bingo to bidding!
The weekend's festivities will kick off with Friday night's family pre-fest, Beer, Brats and Bingo. Held in O'Malley Hall from 6-10pm, attendees can enjoy $1 bingo games, music, a delicious meal and beer, wine and margaritas. Kids are welcome to join their parents, or enjoy supervised children's activities upstairs in Pac Hall.
At 12:30 on Saturday, the excitement begins across the street! The Harvest Festival will run through 9:30pm with rides, game booths, live entertainment, barbeque dinner, food booths and a beer garden set up as a sports bar with TV's showing all of the day's big games. Some of this year's new rides for the kids include the Euro Bungee and Rock and Roll Joust, or they can show off their skills in the video game truck.
Highlighting the event is the silent and live auction, featuring tickets for the Rose Parade and Rose Bowl game, Dodgers, USC basketball, the boy-band One Direction, Coachella 2013, Disneyland and set passes for Modern Family. There are also weekend getaways, fabulous jewelry items and a signed baseball by "The Yankee Clipper" Joe DiMaggio.
"This event is one of the most fun and safe days you can spend with your family," said Principal Joanne Harabedian. "There are so many wonderful activities for all ages, and you can rest assured that the area is securely staffed by our parents at every entrance."
Tickets are available on-site for both events. There are also discounted, pre-sale tickets and wristbands for purchase before Oct. 12 in the school office. Call (626) 355-6114 for more information.
St. Rita School is located at 322 N. Baldwin Ave. in Sierra Madre. The Catholic parish school is celebrating their 90th year, with a focus on faith, stewardship and academic excellence.