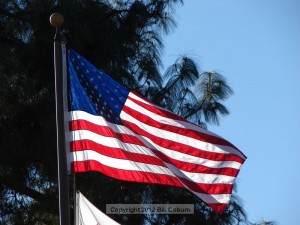 Posted 11/15/12 – Sierra Madre VFW Post 3208 held its annual Veteran's Day Ceremony on Sunday at the Veteran's Memorial Wall in Memorial Park.  Commander Dave Loera announced the unveiling on the Memorial Wall of fourteen new photos of veterans who have lived at least a year in Sierra Madre, and gave a brief history of how Veteran's Day came to be, starting with Armistice Day in remembrance of the end of World War I.  Commander Loera then turned the ceremony over to member Brian Neumann, who introduced the day's three speakers, two Vietnam veterans, Stan Pinta and "Doc" Harold Martin and one Iraq veteran, Nathan Kemnitz.  Neumann noted that due to a partnership with the PCC Veteran's Club, Post 3208 has welcomed several new members, including the event speakers.
Mr. Pinta recalled seeing the Vietnam war on the news every day throughout high school, and a coach who discussed with the students that some of them would end up in Vietnam, and that there would be those who did not make it back, and how that really hit home with him.  He talked about his parents encouraging him to sign up for the Navy, since there might be less danger out on the water than might be encountered if he were based on land, as his brother was with the Marines.  He discussed his service as a mechanic, and his assignments as a member of the Underwater Demolitions Team, which evolved into a Seal Team, and his work with Seal Team 2.
"Doc" Martin, so nicknamed because of his Ph.D., not because he is a medical doctor, currently teaches classes for returning veterans at PCC.  He served in various infantry divisions and special forces in his first go-round during Vietnam, then after a ten year break he re-enlisted and was assigned to the transportation corps.  He spoke of his childhood desire to be a soldier, and how that changed as he became a young adult.  He spoke of a comrade at boot camp, who explained his surly attitude by saying he was concerned that "all this might change me," and that it had never occurred to him that it might change him.  He thought he might change the Army, but it hadn't occurred that IT might change him.
But it did, and Doc Martin shared with attendees that he became resigned to the fact that he would die in Vietnam: "I was cold.  I felt I was already a dead man, that death in Vietnam was my destiny, of the nine men in the original squad that I was assigned to, I was the only one left at the end of a month, so I was totally convinced I had no future, there was only a present, and if that's all I had, I was going to fight like nobody's business… I had the anger and the bitter hatred of a young man whose dreams were snuffed out, and whose life would soon be too.  I was mean, I was brutal, I appreciated that I was unraveling as the kind of person that I had been….I was changed…and the only way I could tolerate these changes in me was because I believed that this sick bastard that I had become was soon going to be shot, blown up,  and be gone forever, and so that made it tolerable.  I wasn't brave, I was fearless."
When he realized that he was going to come home, and that he hadn't died, he was in shock:  "I was fully ready to die, I was totally unprepared to live…Before I entered the Army, strangers were drawn to me… it would be decades before that happened again….You know how we have Memorial Day for those who lost their lives, and we have Veteran's Day, like today for those who came back, I often think there maybe ought to be a third day for those whose body came back, but their spirit did not.  That really great guy that I thought I was, he never survived Vietnam, and for years I didn't like the guy that came back in his place, I hated that guy.  I used to fly an MIA flag from my house,  but it flew for me, I was the MIA… over the years I used to search for his remains, and occasionally find bits and pieces.  Well you can pinpoint on a manifest when a person returns, but that's the physical return, the emotional, mental and spiritual parts take a lot longer, if ever they return."
But the years have helped Doc to come to terms.  After several minutes of more light hearted talk about his service experience, he closed his speech on an upbeat note.  "Others have had it far, far worse than me.  I'm standing here today.  I'm not homeless.  I'm not an alcoholic.  I've got problems, but they pale.  I got to be the kind of officer I wished I deserved, I got to be the kind of soldier and have an affection for the army which I'd always wanted and didn't have initially. I've got three great sons, one of whom came back from Iraq safe and sound, a wonderful wife of 35 years, I am a blessed person, far, far better off than I deserve."
Last to speak was Nathan Kemnitz, who served in Iraq and was wounded in Fallujah, losing the sight in his right eye, and the use of his right hand, arm and shoulder.  He discussed losing his best friend when an IED exploded, causing his injuries and leading to 25 surgeries over two and a half years of treatment at Bethesda Naval Hospital.  He discussed the sudden loss of the feeling of camaraderie that he felt with his fellow Marines, "I was on a patrol one day, and the next thing I knew – lights out."   He told of the difficulty of coping with his injuries "Like anybody who doesn't cope well, I started abusing my pain killers that the hospital gave me, started drinking too much…I pretty much lived in this anger and bitter state for years…I was  angry because at the same time I got injured, I wanted to go back over with my friends, one of my friends went over and did two more tours and I wanted to do that, but I couldn't.  I didn'[t feel like a man, I didn't feel like a Marine, I was just an injured Marine walking around with all the other injured Marines…I didn't expect my Marine combat tour to be like that, but that's what it was."    He credited the Wounded Warrior Regiment with helping to pull him out of the anger and depression that he dealt with for the first few years after his injury.  He also credited Doc Martin and the other veterans he has since met up with at PCC.
Following the ceremony, a fundraiser was held at the Hart House Senior Center, featuring portraits of the members of the VFW for sale.
Enjoy the photo gallery below the videos.
Warning – Adult language