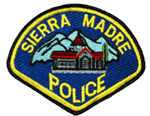 Posted 11/20/12 – Sierra Madre Police Department Police Blotter Report, November 10-18, 2012
Saturday, November 10, 2012
At 7pm, a resident of the 600 block of west Orange Grove Avenue was inside her home when she observed a person looking into her kitchen window.  The individual quickly moved away from the window and was gone before police units arrived.  The resident could not provide a description as she saw only portions of the suspect's torso.  An examination of the area failed to locate any evidence.
Monday, November 12, 2012
In the early afternoon, an unknown suspect broke the side window of a vehicle parked in the Bailey Canyon Parking Lot.  The suspect removed a purse that had been placed under the front seat and fled without being seen.  While investigating this crime, the officers discovered that a second vehicle in the lot had been broken into in the same fashion. A purse was taken from the second vehicle.  This is the third vehicle burglary in the Baily Canyon Parking Lot this month.  In each of the crimes the suspect smashed a side window and took property that was easily reachable.
Wednesday, November 14, 2012
At 5:30pm, officers were dispatched to Santa Anita Canyon Road at the Lannan Debris Basin to investigate a report of a fire.  On arrival they detained a male transient who had ignited a large trash fire to keep himself warm.  The fire was quickly extinguished and the transient was arrested for starting an unlawful outside fire.