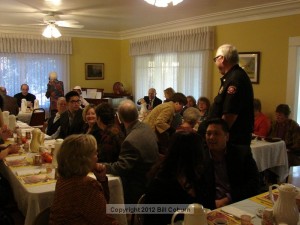 Posted 11/23/12 – The day before Thanksgiving, the one-hundred five year old Sierra Madre Woman's Club again hosted its annual Prayer Breakfast at the historic Essick House, their clubhouse for the last forty years, attended by, as Programs Chairwoman described it, "the movers and shakers" of the community.  Mayor Josh Moran and Mayor Pro Tem Nancy Walsh, and Council members Chris Koerber and John Harabedian were joined by City Manager Elaine Aguilar, City Treasurer (and Citizen of the Year)Richard Mays  and every department head in City government.  Fire Chief Steve Heydorff and former Police Chief Marilyn Diaz, who will soon leave on a five week trip to India on behalf of Rotary were in attendance.  Kiwanis president Susan Henderson, former Citizens of the Year (and former mayors) Rob Stockly and George Maurer were in attendance.  The Senior Community Commission was well represented with member and past Older American of the Year Fran Garbacchio, former Citizen of the Year (and Senior Community Commissioner) Marilyn McKernan, Commissioner Dorothy Jerneycic and Commissioner Nina Bartolai, who was joined by her former mayor husband Clem, in attendance.  And former Commission Chair Ann Luke, who is also former president of Kiwanis and the Chamber of Commerce was also in attendance.  And that's just a partial list of the nearly one hundred in attendance, so perhaps Ms. Carney was understating the case.
Unofficial town historian (and Woman's Club membership Chair) Phyllis Chapman introduced all these folks.  As everyone arrived, piano was played by Eunis Banis.  As the event opened, President Emeritus Phyllis Bugh did the invocation and led the crowd in singing "Come, Ye Thankful People, Come" and "America the Beautiful".  Event Chair Shahrzad Arzani supervised the working volunteers of the Club in serving everyone coffee, juice, muffins, fresh fruit and quiche.
But the purpose of the meeting was to hear the messages of thanks presented by Very Reverend Michael Bamberger of the Episcopal Church of the Ascension, Reverend Paul S. Beck, Senior of the Sierra Madre Congregational Church, Rev. George Crisp of the Sierra Madre United Methodist Church, Reverend Dr. Jolene Cadenbach of Arcadia Congregational United Church of Christ, Hon. Judge Dorothy Nelson of the Baha'i Faith and Deacon Manuel Valencia of St. Rita's Catholic Church.  The Benediction was given by the Most Reverend Alan Phillip, C. P. of the Mater Dolorosa Passionist Community Retreat Center.
Reverend Bamberger led off, speaking about resilience, which he had witnessed firsthand recently when he was helping the Episcopal Church as a disaster consultant in the northeast areas affected by Hurricane Sandy.  He observed that people live everyday essentially looking thru lenses that have a spectrum, and that those spectrums reflect opposing functions that we often live somewhat in the middle of.  Fear and faith, gratitude and resentment, scarcity and abundance, and the biggest of all, hope and despair.  He noted that faith and gratitude help people to be resilient, and that it's our job to offer words of encouragement for hope, "to remind people about gratitude, to remind people about abundance, and of course, to remind people about faith."
Pastor Beck then got up and opened with the joke about the monk who entered a monastery where he was limited to two words per year, and after the first year, he said "Bed hard."  After the second year, he commented "Food bad."  And the third year, his two words were "I quit."  The head of the monastery replied "I'm not surprised, you've done nothing but complain since you got here."  He observed that the Bible addresses complaining in the book of Phillipians, chapter 2, verse 14 "Do everything without grumbling or arguing," and he wondered "How do we do that?"  He suggested that it was by doing what we will be doing tomorrow as we gather around the table, by counting our blessings.  He recalled a time when he was leaving a hospital, and he encountered a woman and he asked her "How are you doing today?" to which she responded "Better than I deserve."  He continued "I think I can say, and I hope you can too, better than I deserve."
Pastor Beck was followed by Reverend Cadenbach.  She discussed a recent meeting she attended at which there had been six faith traditions represented, Baha'i, Buddhist, Christian, Jewish, Hindu and Sikh, and that they all had the opportunity to present how they gave thanks in their faith.  She observed that "I found a lot more similarities than I found differences – they were all appreciative of the earth that we have, and the importance of the need to serve each other and take care of it, and be thankful for the bounty we've been given.  She mentioned a thirteenth century German theologian, philosopher and mystic named Meister Eckhart, to whom people went for advice on their spiritual journey, and that one person had said to him "You know, I don't know how to pray, how should I begin?'  She continued that "Meister Eckhart said 'Start with two words, Thank You,' and that's what we are doing today."
Next up was Rev. Crisp, who wanted to say how grateful he is "for the workings of this community and all the different ways that all the departments seem to work together in various ways to help our community…I'm also grateful for the collegiality of my colleagues here at the table…most of all I'd like to say that I'm very thankful for the blessings of this earth and the bounty that comes from it and cares for us, not just one day a year when you fill our tables, but every day of the year when our tables are full with wonderful things…and I wish you all a happy Thanksgiving.
Judge Nelson was next, and discussed the arrival in America one hundred years ago Abdul Baha, and his message emphasizing the "oneness of religion and how the spiritual teachings of all religions are really the same – the fatherhood of God, the brotherhood of man, the power of prayer, the golden rule, and especially emphasizing the oneness of the whole of humanity.  That  the earth, as he said, is but one country, and mankind its citizens."  She said he brought the teachings of his father, Bahá'u'lláh, who told us how we should be really thankful for being here, when he said "Be generous in prosperity, thankful in adversity, be worthy of the trust of thy neighbor and look upon him with a bright and friendly face, be a treasure to the poor, an admonisher to the rich, and answerer to the cry of the needy.  Be unjust to no man, and show all meekness to all men. Be as a lamp unto them that walk in darkness, a joy to the sorrowful, a sea for the thirsty, a haven for the distressed, an upholder and defender of the victim of oppression. Let integrity and uprightness distinguish all thine acts."  She then offered a prayer originally written by Abdul Baha for America: "O Thou kind Lord! This gathering is turning to Thee. These hearts are radiant with Thy love. These minds and spirits are exhilarated by the message of Thy glad-tidings. O God! Let this American democracy become glorious in spiritual degrees even as it has aspired to material degrees, and render this just government victorious. Confirm this revered nation to upraise the standard of the oneness of humanity, to promulgate the Most Great Peace, to become thereby most glorious and praiseworthy among all the nations of the world. O God! This American nation is worthy of Thy favors and is deserving of Thy mercy. Make it precious and near to Thee through Thy bounty and bestowal."
After breakfast was served , Deacon Valencia spoke, noting that Thanksgiving is a uniquely American holiday, and elaborated that in addition, "Thanksgiving is also unapologetically, unabashedly, inescapably, a religious holiday in which we thank God for all of our blessings.  There is no one else we thank when we come together, except to thank God, and this is a uniquely American holiday."  He discussed the fact that the words company and companion come from the Latin "cum panis" meaning "with bread."  He observed that the words also carry with them a "profound theological and religious connotation, and that is when we come together to break bread as company, we are sharing bread, we are sharing with one another, and not only those with means, but most especially those who are most vulnerable, those who are poorest, those who are weakest, and those who need, if not food, companionship.  That is what cum panis carries with it."  He continued that "We know that the only way any of us can ever, ever know and recognize the face of God in praise and thanksgiving…is in the breaking of the bread.  Cum panis."
Reverend Phillip gave the benediction, and the breakfast was over.