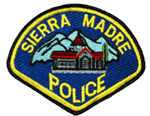 Posted 12/10/12 – Sierra Madre Police Department Police Blotter Report, December 2-9, 2012
Sunday, December 2, 2012
At 9 am, a traffic collision occurred near the intersection of Baldwin Avenue and Alegria Avenue.  While turning into a driveway, a vehicle collided with the left front bumper of another vehicle parked at the curb.  No injuries were reported and only minor damage was caused by the collision.
Friday, December 7, 2012
Police investigated a report of a vehicle being stolen in the 00 block of Monterey Lane.  The owner parked his vehicle in his driveway on Thursday night and discovered it missing the following morning. The owner reported that two days earlier, someone had entered the same vehicle as it was parked in the driveway and had removed a set of keys which included a spare key to the vehicle.   The vehicle has not been recovered yet.
At 1:30 pm, a resident in the 500 block of East Laurel Avenue observed a white male approximately 18 years of age, walk into his backyard and take a skateboard.  The resident gave chase but lost sight of the suspect.  The investigators received sufficient information on the suspect to create a photo line-up and show it to the resident.  The investigation is on-going.
Saturday, December 8, 2012
At approximately 2:45 am, police received information on a vehicle driving the wrong way on Foothill Boulevard near Michillinda Avenue.  Units responded and located the described vehicle at Baldwin Avenue near Foothill Boulevard. The investigation revealed that the driver (male, 20 years of age) had been drinking and was unable to safely operate a vehicle.  He was arrested for DUI.