Press Releases posted 12/10/12 – Alverno High School campus will be busy between now and Sunday, with three events scheduled that the general public is invited to attend..See below for more information.  All three events have been added to the SierraMadreNews.Net Community Calendar at www.SMCalendar.info.
Alverno High School To Host Annual Candlelight Celebration Candlelight Celebration includes a choral performance and a living Nativity 
Alverno High School will host its annual Candlelight Celebration on Wednesday, December 12 at 7:00 p.m. at the Villa del Sol d'Oro on the Alverno High School campus. Candlelight Celebration, an annual Christmas tradition at Alverno, celebrates the Christmas story through a live reenactment beginning with the Annunciation and concluding with the Birth of Christ.
Upon arriving on campus, guests will be provided with a candle and led to south side of the Villa where the procession will begin at 7:00 p.m. Following an introduction by the President and Vice-President of the Alverno Student Union, guests will be led around the Villa making several stops on their own journey to "Bethlehem." Each stop signifies an important part of the Christmas story and guests are invited to join in Christmas carols led by the Alverno choir at this time.
Once guests have reached "Bethlehem" on the north side of the Villa, they will be able to enjoy a performance from Alverno's dance students before being invited into the Villa for a final choral performance by both students and alumnae.
A festive reception in the Villa will immediately follow the procession and performances. Alverno would like to invite all members of the local community to join them for this beloved and time-honored Christmas tradition. Guests are encouraged to dress warmly as the event will happen rain or shine.
Alverno High School To Host Holiday Blood Drive  Alverno will host blood drive with City of Hope
Alverno High School will host a Holiday Blood Drive in association with City of Hope on Friday, December 14 from 11:30 a.m. to 5:30 p.m. at the Alverno campus.
Individuals aged 17 and older who weigh 110 pounds are encouraged to come to campus to participate in this special Holiday project organized by the Alverno Student Union and Alverno's Campus Ministry group. Individuals who are 16 years old and weigh at least 120 pounds will be eligible to donate with a signed consent form provided by City of Hope. Every donor must present a government-issued ID card at the time of donation.
Patients at City of Hope rely on more than 37,000 units of blood a year—a demand that increases during the holiday season as donations decrease. One unit of blood could possibly save the lives of up to three people.
If you are eligible to donate, please contact giveblood@alverno-hs.org or (626) 355-3463 to make an appointment.
Alverno High School and the Alverno High School Class of 1993 Invite Community to Fundraiser  Alverno High School Holiday Fundraiser and Boutique 
The Holiday Fundraiser & Boutique will include the following vendors: Party Lites, Mary Kay, Premier Designs Jewelry, Miche Bags, Rig Veda Jewelry, Seriluna, Pampered Chef, Nerium AD, 31 gifts, and much more!  The Boutique, which will be held Saturday, December 15, 2012 from 10:00 a.m. to 2:00 p.m., will feature live music, a raffle, and even a special visit by Santa Claus.  It will be held at the Villa del Sol d'Oro.  A portion of all profits will be donated to Alverno High School's "Adopt-A-Pillar" Campaign, which will fund Phase I of Alverno's Master Plan.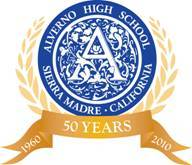 About Alverno High School
Alverno High School is a Catholic, private, college preparatory school for young women dedicated to preparing them to function in a society as informed, knowledgeable persons, who have the requisite skills to make and implement mature decisions about complex problems. Enlivened by the spirit of its Immaculate Heart Community sponsors, and mindful of the Franciscan roots of its founders, Alverno's program—academic, spiritual, aesthetic, social, and physical—is shaped by the staff, trustees, and students in light of the world for which the students are being educated. Alverno's mission is to empower each young woman to be exactly the person she wants to be and since 1960, Alverno has empowered more than 4,100 women to meet that goal. For more information about Alverno High School, please call 626-355-3463 or visit www.alverno-hs.org.