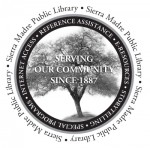 Two young Sierra Madre softball players are doing their part to help undo the stereotype that athletes who are dedicated to a sport have little interest in academics or non-sports related pursuits, such as reading.
Katherine Knop and Daniel Netz, members of the Sierra Madre Girls Softball Association and Sierra Madre Little League, respectively, agreed to be models for Sierra Madre Library's second round of READ™ campaign posters and souvenir bookmarks.  These colorful posters, which feature local "celebrities" posing with their favorite books, are photographed and designed by Library staff members Gerard Brane and Sujey Iribe.
Katherine, 13, chose a book recommended by her parents, "The Hunger Games," the second in a series of futuristic thrillers by best-selling author Suzanne Collins.  Along with J.K. Rowling and Stephanie Meyer, Collins has written a series that has captivated the imaginations and made devoted readers of millions of young adults.
Daniel, who will turn 13 in May, selected "The Blitz," stories of World War II, by Henry Brook, and happily discovered how fascinating and rewarding reading historical non-fiction can be.  Brook is known for his engaging and educational 'true adventure" books for young adults.
Katherine is a student at Holy Family School in South Pasadena, the recipient of the Sierra Madre Girls Softball Association Twelve & Under All Stars award.  Daniel, who is homeschooled, is a member of the Sierra Madre Little League's Dodgers team.
The READ™ campaign was created in 1985 by the American Library Association, and has proven immensely effective in promoting literacy among all age groups.  Comedian Bill Cosby was the first notable to appear on a poster; since then, more than 150 celebrities have donated their images for these posters, which convey the simple, but potent message—READ.
Pete Siberell, Chair of the Sierra Madre Library Board of Trustees and active in Little League, noted that, "When our kids aren't playing ball, many of them are reading and making use of the many resources the Sierra Madre Library has to offer.  With the baseball and softball seasons in full swing, it's perfect timing for the READ campaign to focus on our City's youth."
Sierra Madre's first local READ™ celebrity was Jeffrey L. Throop, this year's President of the Tournament of Roses®, who chose to pose with "Lone Survivor," by decorated Afghanistan/Iraq War veteran Marcus Luttrell.  Approximately every three months throughout 2011, a new poster will feature a Sierra Madre resident who is active in the local community.  Souvenir bookmarks bearing the same design are available for takeaway at the Library, 440 West Sierra Madre Boulevard, Sierra Madre. 626-355-7186.  www.sierramadre.lib.ca.us