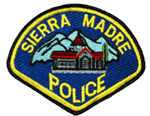 Posted 2/9/13 – Sierra Madre Police Department Police Blotter Report,  January 24 – February 2, 2013
Sunday,  January 27, 2013
Between the hours of 3:30 and 7:00pm unknown suspects broke into a residence in the 300 block of East Grandview Avenue.  The suspects removed a screen on a rear window then smashed the glass with a brick. Several rooms were ransacked and a pillow case from the bedroom was apparently used to carry items removed from the residence. Two televisions, a laptop computer, money and jewelry were reported stolen.
Tuesday,  January 29, 2013
A theft from vehicle took place in the 200 block of East Grandview Avenue.  Overnight, an unknown suspect entered an unlocked truck parked at the curb and removed a number of power tools.
During the same time period, another theft from a vehicle took place in the 600 block of West Alegria Avenue. An unknown suspect entered an unsecured vehicle parked at the curb.  An I-Pod power cord and miscellaneous documents were taken.
Thursday,  January 13, 2013
A resident in the 300 block of Foothill Avenue returned to his residence after being away for 36 hours and discovered his house had been burglarized.  Unknown suspects had forced open the rear door using a pry type tool. Items in the master bedroom were disturbed and it appeared the jewelry had been removed from drawers.  Neighbors did not report seeing any unusual activity in the area.