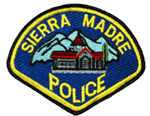 Posted 2/11/13 – Sierra Madre Police Department Police Blotter Report,  February 4-10, 2013
No residential burglaries have been reported in the City of Sierra Madre since January 31, 2013.  This is the largest time gap between burglaries since the trend started in mid-December 2012. 
Monday, February 4, 3013
At noon, a 25 year old male (no further description) walked onto a property under construction in the 100 block of Rancho Road and took an air compressor.  As the site is frequented by a number of construction workers, witnesses did not take particular note of this individual walking away with the item.