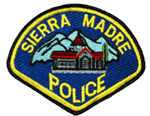 Posted 3/18/13 – Sierra Madre Police Department Police Blotter Report,  March 11-17, 2013
Monday, March 11, 2013
At 3:30pm, a traffic collision occurred at the intersection of Sierra Madre Boulevard and Mountain Trail Avenue when an eastbound vehicle failed to stop for the posted stop sign. That impact caused the second vehicle to collide with the bus bench shelter at the southeast corner. One party complained of pain and was transported to the hospital by fire department personnel.
Wednesday, March 13, 2013
Palo Alto Police contacted SMPD regarding a fraud investigation being conducted in their city.  A business in Palo Alto reported four fraudulent checks drawn on their account in late 2012.  The Palo Alto investigation revealed that the fraudulent checks had been deposited in an ATM at the Sierra Madre Branch of the Bank of America.
SMPD has assumed investigative responsibility for the matter. Surveillance video has been acquired and information on two suspects with addresses in Los Angeles obtained.  The investigation is continuing.
Saturday, March 16, 2013
At 8:30pm, a vehicle travelling north on Lima Avenue from Orange Grove Avenue collided with a vehicle parked at the curb.  The driver stated that she did not see the vehicle prior to the collision.   She located the owner of the parked vehicle and ensured that a police report was completed.  The driver was not injured in the incident.