Rotary Club Makes Donation to Children's Library Campaign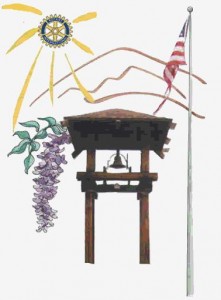 The Rotary Club of Sierra Madre has made a donation of $20,000 to the Sierra Madre Children's Library Campaign.  Rudy Hayak, Rotary Board Member, announced the Club's pledge at a breakfast meeting held at the Library on April 5, 2011. Patricia Hall, Campaign Chair, said, "The Sierra Madre Public Library is successful because of the generosity of donors like Sierra Madre's Rotary Club.  Every day children, and those who love and care for them, will benefit from your gift to the community." 
It has been nearly 20 years since the Children's room was updated, and in that time the needs of families have markedly changed.  There is a need to upgrade the Children's Room to make the most of new child-centered services and improve the use of space in the room.  Plans include creating a preschool zone and a study/reading area for students, and devoting more space to computers and technology. 
Currently, a large corner of the Children's room is rendered unusable by an emergency exit that will be relocated, regaining valuable space.  Replacing four old windows with higher, more environmentally efficient ones will save money on utilities, keep the room more comfortable for everyone, and create space for new bookcases that can hold substantially more books.  These are a few of the changes planned.
The Friends of the Sierra Madre Library are proud to help coordinate the fund raising for the project and invite organizations and individuals to join with Rotary and donate towards the project goal of $55,000 goal. For questions regarding details about the project and how to make a donation, please contact Meegan Tosh at (626) 355-7186.