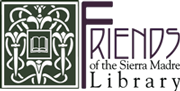 Press Release posted 3/24/13 – Just in time for spring, gardening books will be featured at the next Friends of the Sierra Madre Library's Best Used Book Sale being held in the basement and back parking lot of the library on Friday, April 5, from 3:00-7:00 p.m. and Saturday, April 6, from 10:00 a.m. to 2:00 p.m.  We'll offer a variety of books on designing and planting gardens for year-round beauty as well as books on planning specific garden types and the plants to use in each.  For the history buff there are several Time-Life sets such as The Civil War and The Old West.  If your taste runs more to fiction, we have a number of sets of Anthony Trollope novels and a beautiful set of the Franklin Library reprints of classic literature titles.  Also on sale are many other volumes of newer fiction and non-fiction.  Our basement table features sets of art prints by famous artists and wonderful coffee table books on cooking, wine, history, and contemporary culture in addition to volumes for children and teens.  There will also be DVDs and Audio Books for sale.
In the parking lot, our popular $1.00 bargain book tables feature newly reduced volumes from our fiction and non-fiction collection as well as a variety of teen and young adult books.  And, as always, the paperbacks and children's books outside are only 25 cents each or 5 for $1.00.
These sales offer high quality, slightly used books that are culled from our library shelves or donated, books that you'll be proud to place in your own library or to give to friends and family.  So come early and come often to see what treasures you can find.  Proceeds from the Best Used Book Sales will be donated to the Sierra Made Public Library to support program and equipment needs.  The library is located at 440 W. Sierra Madre Blvd. in the city of Sierra Madre and there is parking on the street and behind the library.  For more information visit our website at www.sierramadrelibraryfriends.org  or call the library at 626 355-7186.