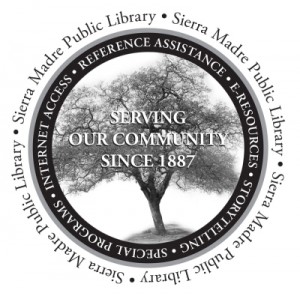 Press Releases posted 5/20/13 
It's Naptime for the Library's Popular Preschool Storytime
Preschool storytime at the Sierra Madre Public Library will take a week's nap and will not meet on Monday, June 3 and Wednesday, June 5.
Summer Reading begins on June 10, and library programs are taking a break so staff can ready the library for all the summer activities. Summer Reading includes divisions from preschoolers through adults with prizes and programs throughout the summer.
Storytime will resume on Monday, June 10. Parents and preschool children meet for Storytimes on Mondays 10:00 – 11:00 a.m. and Wednesdays 7:00 – 8:00 p.m. for stories, songs, crafts and play.
Sierra Madre Library Receives Grant to Buy Books!
Good news for Sierra Madre. The Sierra Madre Public Library has just received $7,500 from the State of California to buy new books.  In a program called Books4U, all public libraries in California received these one-time funds through monies from the Library Services and Technology Act (LSTA). Funds are available this spring to buy print materials in six areas: Early Literacy/Parenting, Workforce Development, Non-English Language/ESL, Reference, Children's/Teen, and Popular Fiction.
Library Director Carolyn Thomas said, "This is such good news. It will give us a boost in these tough economic times."
Check the library website , New Book Alerts, for all new titles arriving in the library. http://cityofsierramadre.com/departments/library