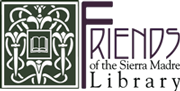 An eclectic selection of collectible books, including several signed first editions, is being featured in the Best Used Book Sale Committee's second Silent Auction.  The books can be seen in the display case in the main room of the Sierra Madre Public Library, 440 W. Sierra Madre Blvd., Sierra Madre through Monday, June 3 during library hours.  To inspect the books more closely, visit the library on May 25 and June 1 from 1-2 PM when a member of the Book Sale Committee will be happy to help you.
Bidding sheets and rules will be available in a notebook located on the library's checkout counter.  Each of the fifteen books for sale at the auction will be numbered and will have a corresponding numbered bid sheet in the notebook.  Bidders are asked to write their bid amounts and a contact telephone number on the appropriate bid sheet.  Bidding must begin with the stated opening bid posted on the bid sheet and increases must abide by the posted increase each time a bid is made.  Bidding will close promptly at 8 PM on Monday, June 3.  If not present at that time, winning bidders will be notified by telephone the next day and will then be able to pick up their books at the library.
The auction offers a rare opportunity to purchase some truly unique and beautiful books while supporting our local public library.   Proceeds from the Silent Auction will benefit the Sierra Madre Library's programs, services, and acquisitions.  For more information, visit our website at www.sierramadrelibraryfriends.org or call us at 626 355-7186.  A complete list of the books to be auctioned follows.
A Photographer's Life 1990-2005 by Annie Leibovitz, Random House 2006
Everything to Gain-Making the Most of the rest of Your Life by Jimmy and Roslyn Carter (signed, first edition) Random House 1987
History of Pasadena and the SG Valley, CA by Harold D. Carew (Sierra Madre resident – forward written from Pulpit Lodge, S.M.) S.J. Clark Publishing Co. 1930 (only 1 of 3 volumes)
Jungle Jest by Talbot Mundy, The Century Co. 1932 (first printing)
Lalla Rookh, An Oriental Romance by Thomas Moore, London, Longman, Brown, Green and Longmans 1854
Paintings in the Hermitage by Colin, Eisler, Stewart, Tabori and Chang, 1990 (first edition)
Peter Pan in Kensington Gardens by J.M. Barrie/illustrator Arthur Rackham Weathervane Bks. (first edition) 1975
Rod McKuen's Book of Days and a Month of Sundays by Rod McKuen, Cheval Books/Harper and Row 1981 (1stprinting, inscribed, also signed postcard found inside the book)
Silas Marner by George Eliot, illustrator C.E. Brach, J.M. Dent and Co. 1905
Sincerely, Andy Rooney by Andy Rooney, Public Affairs 1999 (signed first edition)
The Audubon Society Encyclopedia of North American Birds by John K. Terres, Alfred A. Knopf 1980
The Presidency by Stefan Lorant, MacMillan 1951 (first edition) bookplate from library of Jean Hersholt donated to Motion Picture Country Home
The Stories of O. Henry, illustrator John Groth, Easton Press 1965
The Works of William Makepeace Thackeray by William Makepeace Thackeray, Smith, Elder and Co. (24 volumes) 1869, 1880 (leather-bound and appraised at $1200-1500)
Treasures of the World (16 volumes), Stonehenge Press 1982, 1983