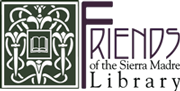 The Friends of the Sierra Madre Library are putting the final touches on the 49th Annual Sierra Madre Art Fair on Saturday May 7, 9:30am to 6pm and Sunday 9:30am to 5pm.  Expect to find 100 artists displaying their fine art and demonstrating their individual techniques. You'll enjoy various mediums, including oil paintings, jewelry, watercolors, glass art, wood and metal art, drawings, pottery, ceramics, mixed media, hand-woven baskets, rugs and photography. The Fair continues to draw highly talented and skilled artists from all over the country, including the Featured Artist and wood-turner Ivy Schuman of Chatsworth.
Live music will be featured throughout the weekend at Sierra Madre Memorial Park, located at 222 W. Sierra Madre Blvd. Local bands scheduled to perform at the band shell are: The String Planet (Saturday and Sunday 11:00a to 1:00p); The Eclectic Connection (Saturday 2:00p to 4:00p); and Cowbop (Sunday 2:00p – 4:00p). Also, scheduled at the southeast section of the park, you can hear: Sister Ann and Her Wayward Boys (Saturday 10a to 12 noon); Mike Tims (Saturday 1 p-2 p) Jane Fuller (Saturday 3p to 5p); Banna Beg Mall (Sunday 10a to 12 noon) and The Joel Penner Jazz Trio (Sunday 2p to 4p)
A full food court is expected to include offerings from: Ruby's Diner, BF Factory French Crepe and Mediterrean; Taquito Lover, Korean BBQ, Kealey's Poppin Kettlecorn, Hawaiian Shaved Ice and the Friend's quick and sweet breads (always a sell-out). Finish it off with Rangpur Lime Juice from the Sierra Madre Historical Preservation Society.
For the kids, you'll find the Sierra Madre Creative Art's Group craft activity called "Insects in the Garden). The young ones will enjoy drawing their favorite insect, then create their own garden of plants and flowers, using a variety of different materials.
In addition to satisfying every one of your senses, you'll help to Friends of the Sierra Madre Library to support programs and services. This past year, the Friends donated over $58,000 for library equipment and upgrades. For additional event information, contact Art Fair Chairperson Sharon Murphy at (626) 355-3977, or www.sierramadrelibraryfriends.org.