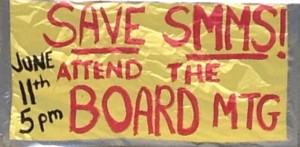 Letter to the Editor posted 6/10/13 –
We have reached a critical point in the Construction of the Sierra Madre Middle School campus. On Tuesday, June 11, the PUSD School Board will be voting on whether to award the revised $27.888M bid (last January the $31.4M bid was rejected by the Board). Four votes in favor are needed in order for the bid to pass. Because of several extenuating circumstances, including a split vote by the Facilities Sub-Committee, it is not clear that the Board will vote in favor of awarding the bid. We need your support to get this school built for our community.
WE NEED HUNDREDS TO ATTEND TO PERSUADE THE BOARD TO VOTE IN FAVOR, AWARD THE BID AND STOP THE DELAYS!
Date: Tues June 11
Time: 6:15pm (Arrive by)
Location: PUSD HEADQUARTERS, 351 South Hudson, 2nd Fl Boardroom Pasadena, CA (Parking lot is small)
More information: https://www.facebook.com/OrganizeSierraMadreSchools
Here is the agenda for the meeting:  http://pusd.granicus.com/GeneratedAgendaViewer.php?view_id=12&event_id=104
Organize Sierra Madre Schools
Sierra Madre