Woman Rescued from Sierra Madre Hillside – Updated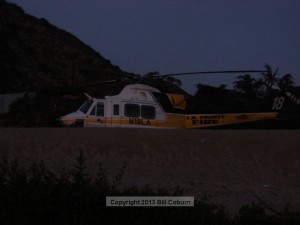 Update posted 6/26/13 – Just spoke with Sgt. Ortiz at SMPD, and got a couple more details.  The hiker's father called SMPD.  Apparently it was LASD 18 that responded and pulled her up from the canyon (not SMSR, though SMSR did respond and was on the scene if needed) after Glendale was able to locate her from the cell phone coordinates pinged by SMPD.  She was treated for minor injuries, but refused transport to the hospital.  That's your update.
Posted 6/25/13 – I don't have all the details, but here's what I learned.  I spoke briefly with Watch Commander Sgt. Esther Doyle, who was busy but made a little time for me, between communicating with dispatch and Chief Giannone. A woman, believed to be a Sierra Madre resident and an avid hiker, took a wrong turn and found herself trapped in a ravine, I believe she may have fallen.  The original call to PD indicated that she was in Bailey Canyon, and that's where SMPD and Sierra Madre Search and Rescue originally went.  However, once authorities  got the coordinates from her cell phone, it was determined she was in a ravine northeast of the debris basin at the top of Auburn.  Pasadena PD choppers weren't in the air, so Glendale was dispatched, and I'm told they were able to pinpoint her location almost immediately.  At one point, there were two helicopters on the scene, apparently LA County Fire also got involved.  I believe, but have not confirmed, that members of  the world Famous Sierra Madre Search and Rescue Team were lowered to the woman, who was then lifted to safety.  The chopper landed in LA County Public Works area between the 700 and 800 blocks of Auburn.  SMFD Paramedics were examining her when I was there, and I was told by SMPD that the woman had suffered minor injuries.  That's all I know.