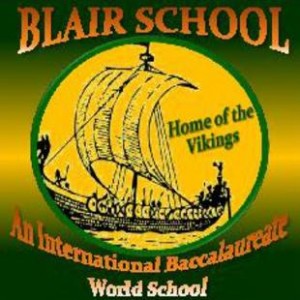 The Pasadena Unified School District (PUSD) announced recently that Blair High School has been named a 2011 California Distinguished School Award winner by the California Department of Education.   Blair High School is among 97 secondary schools statewide to win the award, which honors schools that have demonstrated educational excellence for all students and progress in narrowing the achievement gap. Blair is the first secondary school in PUSD to receive this prestigious honor.
"This is a great honor for all of the staff, students, and parents who have worked, attended, or supported Blair over the past several years," said Trudell Skinner principal of Blair. "Together with recent honors for Advanced Placement Scholars, dramatic gains in our Academic Performance Index score, and increases in the number of IB Diploma candidates, this award is a testament that hard work, consistency, and team work delivers results."
Blair High School joins the ranks of Hamilton, Field and Longfellow Elementary as recent winners of the California Distinguished School Award. Hamilton Elementary School went on to win the National Blue Ribbon Award in 2009.
"Congratulations to Blair High School teachers, administrators, and parents for their dedication to ensuring the success of all students," said Superintendent Edwin Diaz. "The award demonstrates the upward momentum of student achievement at our district's secondary schools, and our community's commitment to prepare all students for success in college and careers, and to provide a rigorous and personalized learning experience for all children. Blair High School is leading the way in this regard."
The California Distinguished School Award program identifies and honors the state's most exemplary and inspiring public schools. Although participation is voluntary, the award is highly sought after by schools in all areas of the state. Elementary and secondary schools are recognized during alternate years.
This year, the California Distinguished School Award honors progress in narrowing the achievement gap between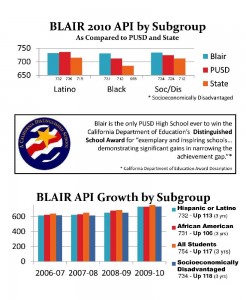 higher-performing and lower-performing students. In order to be invited to be considered for Distinguished School honors, schools had to meet eligibility criteria including designated federal and state accountability measures based on the Elementary and Secondary Education Act (ESEA), Adequate Yearly Progress (AYP), and the Academic Performance Index (API) requirements.  Applicants underwent a stringent   selection process, which included a description of two signature practices that have led to an increase in student achievement and a narrowing of the achievement gap. Applicants were then selected to receive a thorough site visit to validate the practices. 
Schools earning the Distinguished School title this year agree to share their signature practices with other schools and serve as mentors to other educators who want to replicate their work. An updated searchable database of these signature practices will be available later this spring by the California Department of Education.
Blair School test scores in English Language Arts rose by 15 percent over the last five years, and seven percent this year. Math scores also rose by 8 percent this year, and 12% since 2006. The school serves 410 middle school students and 758 high school students.  For a detailed look at Blair's demographics and improvements in scores over the last few years, click on the image immediately above left, or click here.
Winners of the 2011 California Distinguished Schools Award will be honored at an awards ceremony in May.