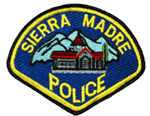 Press Release posted 7/5/13 – On July 4, 2013 at approximately 10:17 PM Sierra Madre Police Department received numerous 9-1-1 calls of a head on collision in the 1900 block of Santa Anita Avenue.  When responding officers arrived they found one vehicle overturned and the other with major front end damage.  The driver of the overturned vehicle was pinned in the driver's seat.
Sierra Madre Fire Department, with assistance of the Arcadia Fire Department, worked for over 40 minutes to extract the driver.  The driver was identified as 48 year old Adam Gallegos of Fullerton who sustained major injuries and was transported to Huntington Memorial Hospital.  Three Monrovia teenagers who were in the vehicle struck by Gallegos were transported to Arcadia Methodist Hospital with minor to moderate injuries.
Police Chief Larry Giannone said "this tragic event is still under investigation and it is too early to tell if alcohol or drugs were a factor in this collision.  So far the investigation shows that Gallegos was driving up Santa Anita Avenue towards Chantry Flats, then for some unknown reason he turned around and started traveling southbound in the northbound lanes of traffic.  Gallegos's vehicle struck the teenagers vehicle then overturned and slid several hundred feet before coming to rest on its side."
This collision remains under investigation and anyone with any information should contact Sierra Madre Police Department at 626.355.1414.