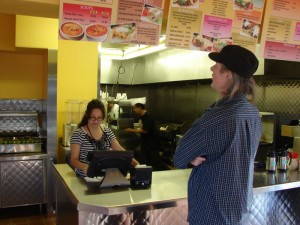 Local musician Joe Ramsey was the first customer at Taco Fiesta this morning, as they opened for business for the first time.  Joe picked up burritos "to go" for he and his wife.  Just received a message from Joe – "Both burritos get two thumbs, actually four thumbs, way up from both Ally and I. Tried the Machaca and the Chorizo and both are excellent! Bravo, T-Fi!!!" 
The family owned restaurant has been preparing to open for months, as the building was given a complete (and badly needed) facelift.  Well, not completely.  The graphic on the door that says "Thank You, Please Come Again" is a remnant of the former business at this location, a KFC that was there for 40+ years. 
There has been a lot of buzz around town about the opening of Taco Fiesta.  Some folks wondered if Sierra Madre can support two Mexican food establishments, but Taco Fiesta and Casa del Rey are two different types of restaurants. Casa del Rey is wait service with a full bar, combination plates, catering and banquets.  Taco Fiesta has limited seating (though it does include outdoor dining as an option), counter service and no alcohol.
Taco Fiesta's lower price point should appeal to students at nearby La Salle and Alverno High Schools.  Soft shell tacos for less than $1.25, tamales for $1.69, three taquitos with guacamole and sour cream for $3.49 – no single serving item on the menu is more than $6.29.
I ordered a breakfast burrito with bacon – other breakfast burrito choices are ham, chorizo, machaca and potato – and received a filling meal with cheese, eggs, refried beans and no shortage of bacon.  I was offered the choice of refried beans or hash browns, and chose the beans.  My breakfast burrito was just $4.29 plus tax.  Taco Fiesta also offers a salsa bar, for those who want to spice up their meals.  I got mine to go, and just added Tapatio when I got home, so I didn't try the salsa bar.  Maybe next time.  And there will be a next time, lots of them I'm sure.  T-Fi, as Joe calls it, is just a few doors from my house.
I realize I've only tried one menu item at this point, but if it was indicative of the other menu items, I'm sure I'll be comfortable recommending it to friends and family.