Friends' Book Sale to Include Free Wine Glass, While Supplies Last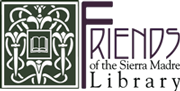 Press Release posted 7/21/13 – If your stack of summer reading material is getting low, the best place to replenish the stack is at the Friends of the Sierra Madre Library's Best Used Book Sale being held on Friday, August 2, 2013 from 3:00-7:00PM and Saturday, August 3, 2013 from 10:00AM-2:00PM.  The library is located at 440 W. Sierra Madre Blvd. in the city of Sierra Madre.
Best Used Book Sales co-chairs, Martha Troedson and Alan Leahy, say the sale books in the basement include a large collection of contemporary fiction and non-fiction titles, many published this year, as well as vintage titles including works by O Henry, Vonnegut, and duMaurier.    We'll also offer large format cooking, art, culture, history, and sports books and special interest sets on history, hobbies and crafts.  Collectors will find a beautifully bound complete set of Treasures of the World.  Children's and teen's books and games are also available.
The bargain tables in our parking lot will offer fiction and non-fiction for $1.00 each, many teen fiction books for $1.00,  and paperbacks for twenty-five cents each (or five for $1.00)   This month's bargain tables feature many resource materials and workbooks for teachers.  All children's bargain books are five for a dollar.
While supplies last, buyers will receive a free Friends of the Sierra Madre Library wine glass.  Proceeds from the Best Used Book Sales are donated to the Sierra Made Public Library to support program and equipment needs.  So bring your shopping bags and come visit us at the Sierra Madre Library on Friday, August 2, and Saturday, August 3, for an opportunity to purchase some of the best used books around at the Friends of the Sierra Madre Library's Best Used Book Sale.   For more information, visit our website at www.sierramadrelibraryfriends.org or call the library at 626 355-7186.