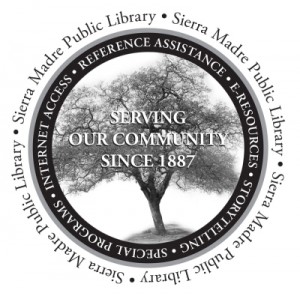 Press Release posted 9/10/13 – Sign-up Now as a Teen History Docent
Teens interested in becoming a volunteer history docent can sign up now at the Sierra Madre Public Library. Beginning in September, five teens at a time will train and give tours during a five-week period using new Digital Storyboard technology at the Library's Local History Room and at the Richardson House museum.
Mark your calendar for the unveiling of the Historical Digital Storyboards
Two wonderful new local history Digital Storyboards will be unveiled on Saturday, September 28, one at 10:00 a.m. in the new Local History Room in the Library, and one at 11:00 a.m. in the Richardson House museum.
Preschool Storytime raring to go
Preschool storytime has resumed! Parents and preschool children meet on Monday mornings 10:00 – 11:00 a.m. and on Wednesday evenings 7:00 – 8:00 p.m. for lively stories, songs, and crafts.
Barks and Books Back After a Summer Break
MaeRose the Labradoodle, along with her person, Dorothy, will be at the Library Thursday afternoon, September 12. Children are invited to visit with and read to the gentle and specially trained dog on the second Thursday of each month, between 3:30 and 4:30 p.m.
Adult Third Thursday Book Ready for Action
Lively roundtable discussions of new and noteworthy books highlight the Third Thursday Book Club which meets at the Library on the third Thursday of the month, 11:00 a.m. – Noon. The book club will be reading Double Cross: the True Story of the D Day Spies by Ben Macintyre on September 19, Light between the Oceans by M.L. Stedman on October 17 and Gone Girl by Gillian Flynn on November 21