Posted 10/25/13 – If you're wondering why the parking lot at the Sierra Madre Post Office is so empty tonight, totally devoid of Postal Service delivery trucks, even in the evening, the answer is, they're in Arcadia.  Trucks that left Sierra Madre's office to go out on their Sierra Madre delivery route today didn't return to Sierra Madre, they went to the Arcadia office.  In an effort to cut costs, delivery to Sierra Madre will now be handled by the Arcadia office.
The Sierra Madre office isn't closing, not yet, anyway.  The P.O. Boxes will still be receiving mail, and residents will still be able to drop off mail and purchase stamps at the windows in the office.  One window clerk is being moved to Arcadia, according to Liz, who was working the counter when I stopped by today, and whose name tag said she was lead clerk.  When I asked if this move might be indicative of a future closure of this office, Liz responded that "I hope not."
According to an article by Adam Poulisse in the Pasadena Star News which quoted Raul Halili, the officer in charge of the Sierra Madre post office, removing the carrier operations out of Sierra Madre will decrease facility related costs there,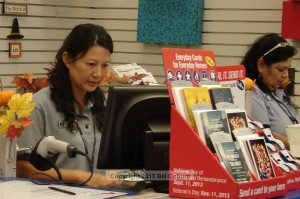 ultimately saving money for the USPS.   Halili told the Star News that "It will be transparent to the community…There will still be the same number of letter carriers."  According to the article, Pasadena and Altadena offices have faced similar consolidations in the last year.