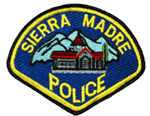 Press release posted 11/28/13 – The Holiday Season is upon us and unfortunately so are some thieves. The city was fortunate to go almost 60 days without a residential burglary. Unfortunately burglars were back in the area last night in the 200 Blk of West Carter. Witnesses in the area did see a vehicle parked adjacent to the victim's residence that was not known to the residents in the area, however they did not call the police.
This is just a reminder "If you see something say something". We urge you to call the Police Department if something just does not seem right to you. The Holiday times are a prime time for crooks. Let's work together to take a strong stance on reducing crime in Sierra Madre.
Below are some Holiday Tips for keeping your residence and property safe.
• Be extra cautious about locking doors and windows when you leave the house, even for a few minutes.
• When leaving home for an extended time, have a neighbor or family member watch your house and pick up your newspapers and mail.
• Indoor and outdoor lights should be on an automatic timer.
• Leave a radio or television on so the house looks and sounds occupied.
• Large displays of holiday gifts should not be visible through the windows and doors of your home.
• When setting up a Christmas tree or other holiday display, make sure doors and passageways are clear inside your home.
• Avoid having packages delivered to your home if they have to be left on the porch or other open area. This is a target for thieves.
Strangers at Your Door
• Be aware that criminals sometimes pose as couriers delivering gifts.
• It is not uncommon for criminals to take advantage of the generosity of people during the holiday season by soliciting donations door-to-door for charitable causes although no charity is involved.
• Ask for their identification, and find out how the donated funds will be used. If you are not satisfied, do not donate.
• Donate to a recognized charitable organization.