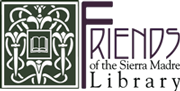 Press Release posted 11/28/13 – With the weather finally getting chillier and the daylight hours growing shorter, winter is a good time to curl up on your couch with a good book.  And wonderful places to find many good books are the Friends of the Sierra Madre Library's Member's Preview Book Sale and the Best Used Book Sale.   Both sales are being held the first week in December at the Sierra Madre Library located at 440 W. Sierra Madre Blvd. in the city of Sierra Madre.
The Member's Preview Book Sale will be held Wednesday, December 4, 2013 from 5-7 p.m. in the basement off the library parking lot.  Not a member?  You can join the Friends of the Sierra Madre Library that evening and shop for great holiday gifts from the collection of newer fiction and non-fiction books.  Featured will be holiday titles, books and games for children and teens, craft books, cookbooks and unusual and attractive coffee table books on many subjects.  There will also be a Bargain Cart with titles for only $1.00!  Come and join us for a cup of Christmas cheer and talk books with other members.
The December Best Used Book Sale will take place on Friday, December 6, 2013 from 3-7 p.m. and Saturday, December 7, 2013 from 10 a.m. – 2 p.m.  There will be lots of books suitable for gifts including many lovely holiday books for children and adults, newer fiction and non-fiction titles, and art books.  It's not too late to begin thinking about crafting and cooking for the holidays-we have lots of books for inspiration.  Come and check out our DVDs and audio books too!  There will be $1.00 Bargain books in the parking lot and, as always, paperbacks and children's books in the parking lot are only 5/$1.00.
Proceeds from the Book Sales are donated to the Sierra Made Public Library to support program and equipment needs.  For more information, visit our website at www.sierramadrelibraryfriends.org  or call the library at 626 355-7186.