Join the Village Church for a Community Potluck before the Candlelight Walk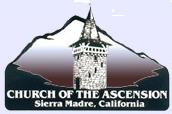 Press Release posted 12/7/13 – Planning to participate in Sierra Madre's traditional Candlelight Walk on December 22? Walk up the hill a little early (5:30), stop at the Church of the Ascension, and share in food and fellowship at the Village Church's Community Potluck Dinner (bring enough of your favorite salad, main dish, or dessert to serve 8).  Filled with food and community spirit, you'll be ready to join the singing and celebrating as we share in the Candlelight Celebration at 7:00 pm. Community Potluck starts at 5:30 pm in the newly renovated Hawk's Hall all are welcome.
Church of the Ascension is located at the corner of Baldwin and Laurel. For more information about the potluck, call the parish office at 626-355-1133 or visit: www.ascension-sierramadre.com.