Burglary Suspect Captured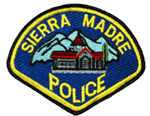 Press Release posted 1/16/14 – Early this morning the Police Department received several complaints about the helicopter orbiting over the 400 blk of East Highland. The helicopter was being used to assist the officers in locating a burglary suspect who was found inside a residents home and fled. The suspect was ultimately found in the rear yard and arrested.
The Police Department apologizes for the noise and slight inconvenience this may have caused but in the end it paid off and another burglar has been taken off the streets.