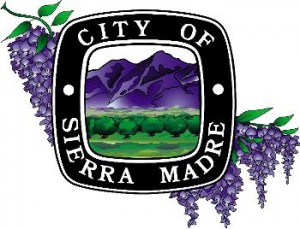 Press Release posted 2/25/14 – With considerable rainfall in the forecast for the upcoming week, the City of Sierra Madre would like to encourage residents to think about opportunities to collect rain water and use it to supplement their potable supply.
One inch rain on a 1000 square foot roof will yield 600 gallons of water. Capturing this water can replace potable water for landscaping use. Many residents have contacted the City with ideas and questions regarding installing rain gutters that discharge to rain barrels and collect water for landscaping use. There are now many systems available for you to consider if you have not yet done so.
Perhaps you were considering this improvement for your home, but with so little rainfall in recent history, this type of system is forgotten. The rain that is forecasted for this week can provide an opportunity to see if there are rain capture opportunities on your property. This can be as simple as putting a few buckets in various locations and testing the collection feasibility around the property. Of course, this collected rain water can then be used to irrigate your landscape once the rain has subsided. It is important to know, however, that formal rainwater harvesting equipment uses sealed collection containers to mitigate the opportunities for mosquitos in standing water. If you do collect rainwater in open containers, be sure to use it once the rain ends.
As of Tuesday, the National Weather Service is forecasting 2-4 inches of rain in the foothills and mountains with even higher amounts possible in the south facing slopes. Please keep the following in mind as the storms approach this week:
Turn off or adjust your automatic irrigation.
Be prepared to monitor any rainwater harvesting equipment that you may already have installed.
Consider "trying out" rainwater harvesting on your property by using containers to see how much rain can be captured.
Be sure to use any open rainwater collected in a timely manner. Empty your bucket and eliminate any areas of standing water if you notice mosquitos. Put this water into the ground if at all possible instead of into the gutter and storm drains.
For more information about Rainwater Harvesting and other ideas for saving water around your house please visit http://www.sgvmwd.org, or call the Sierra Madre Department of Public Works at 626-355-7135.