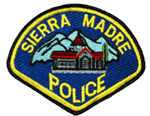 Posted 2/26/14 – Sierra Madre Police Department Blotter,  February 17-23, 2014
Wednesday, February 19, 2014
At 9:14 am, Sierra Madre Police responded to the 300 block of N Baldwin Ave. regarding a burglary report.  Resident advised officers she left her residence in the early morning hours and when she returned home, she found her rear door was wide open. Resident stated her home was ransacked, but nothing appeared to be missing.
At 3:10 pm, Sierra Madre Police responded to a traffic collision that occurred at Michillinda Ave. and Mariposa Av. Vehicle one was traveling south bound on Michillinda Ave. and collided with another vehicle that was making a left turn into La Salle parking lot. No injuries reported.
Thursday, February 20, 2014
At 8:08 am, reporting party came into the Sierra Madre Police Department regarding identity theft.  Reporting party was notified by her credit card company of suspicious activity on her account, and she immediately reported the incident to Sierra Madre Police Department. The case has been forwarded to the Detective Bureau for further investigation.