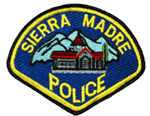 Posted 3/10/14 – Sierra Madre Police Department Police Department Blotter, February 23, 2014 To March 2, 2014
During the week of Sunday, February 23, to Sunday March 2nd, the Sierra Madre Police Department responded to approximately 300 calls for service.
Monday February 24, 2014 
At 8:39 am, Sierra Madre Police responded to the 400 block of Ramona Ave. regarding a theft of figurines from a front yard.  The location was monitored by a security camera system, which revealed to Police Officers that the incident actually occurred on Monday, February 17, 2014 at approximately 4:00 pm.  Two suspects were seen entering the yard and removing the figurines.  Vehicle and suspects were seen leaving location east bound on Ramona and out of sight.
Later that day, officers found the vehicle and the suspects were taken into custody.
Tuesday February 25, 2014
At 5:03 pm, Sierra Madre Police responded to the 200 block of Mariposa Ave. regarding a theft of United Parcel Service packages. The victim advised Police that several packages were stolen from resident's front porch. An area check was conducted for any evidence or leads, but no suspects were found.
Sunday March 2, 2014
At 3:19 pm, Sierra Madre Police responded to the 100 block of Colony Drive, regarding an attempted break in to a residence.  Victim advised SMPD that the  incident occurred between Thursday, February 27, 2014 and Friday February 28, 2014. Resident discovered that a screen had been removed from her window, another screen had been cut, and there were pry marks on the window. Suspects were unable to gain entry into the residence.