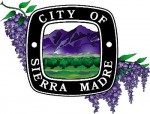 Press Release posted 5/7/14 – The City of Sierra Madre's first annual City Employee Art Show at City Hall is currently on view. Nine City employees contributed artwork in various mediums including: photography, sketches, paper tole, water color and colored pencil drawings. The artwork represents a peek into the creative side many of our employees possess. The art show is coming to a close soon, so be sure to stop by City Hall before Monday, May 19, 2014.
City Hall is located at 232 W. Sierra Madre Blvd., Sierra Madre, CA 91024 and is open Monday through Thursday from 11:00am-5:30pm. For more information contact the Community Services Office at 626-355-5278.
Artist Bios
Clare Lin – Public Works Administrative Aide
Paper Tole is the process of taking identical prints, cutting out the components, then sizing, shaping and layering these components on the base print to give the finished piece a three-dimensional effect. I started in 2010, and now I help to teach the class at community center. Quick watercolor sketch was inspired by artist Diego Conrnejo Menacho's thirty-minute sketch session, 2008. Watercolor on paper.
Meegan Tosh – Library Services Manager
I did a lot of this earlier in my life, lately not so much. It takes concentration so I can zone out, it is creative choosing all the different stitches and colors, it's fun to make something pretty, it's a good thing to take on trips, although not airplanes anymore because of the scissors, it's a unique thing to give as a gift, there is a sense of accomplishment when a project is finished.
Elisa Cox – Human Resources Director
Elisa received her first camera for Christmas when she was five and ever since has been torturing friends and family alike by stopping to "take just one more" on trips and travels both near and far. These particular pieces were taken in Paris, France, at Steve McQueen's Ranch in Santa Paula, California, and in Vevey, Switzerland. Additional pieces in Elisa's collection can be found in her office.
Bruce Inman – Public Works Director
For "Choptank Sunset:"
Taken from the deck of a restaurant on the eastern shore of Chesapeake Bay. I enjoyed many a dinner with my Dad from this spot.
For "Barn:"
Located on the outskirts of Annapolis, Md., this barn was for many year a landmark that reminded me I was in a city very different from the one in which I live. I passed this farm daily on my drive between my hotel and my dad's home.
Johannah Peterson (Daughter of Jen Peterson, Administrative Assistant)
Johannah Peterson, age 16 is a primarily self – taught artist who prefers to work in colored pencils and water colors. She continues to explore other mediums as she pursues classes at Art Center this summer. These are four of her favorite pieces that she has recently finished.
Danny Castro – Development Services Director
I enjoy traveling and exploring cities, and love architectural history. When I take the time to relax, I like to sketch buildings. These renderings were done while traveling throughout Italy and Germany in 1999. I sketched these buildings while walking around the Duomo in Florence, sitting at a park in front of a Michelangelo church, eating pizza in Pisa, and boarding a boat on the Rhine River. While unfinished, they were meant to capture the time while moving about to the next thing.
Leticia Cardoso – Senior Planner
I've always loved art, and have been interested in colored pencils since I attended a workshop by Bet Borgeson in 1989, who is one of my favorite colored pencil artists. I have always loved color, and find that colored pencils can not only be easily used for layering color, but also to create a wide range of texture, which I also love. In 2004, I had the opportunity to attend another Bet Borgeson workshop right here in Sierra Madre at the Creative Arts Center, which is when I created this piece. I cannot explain what prompted me to draw this particular piece, it simply evolved as I worked on it. I am also interested in botanical illustration with color pencil and graphite. Beyond these workshops, I have taken a few art classes at UCLA Extension, Otis and the L.A. County Arboretum in the last several years.
Laura Hodge – Payroll Clerk
I've always been creative and experimented with different media. Lately, art has become a healing and meditative process without a preconceived goal. The process is where the magic happens. Less interested in formal training I learn as I go and let curiosity guide me. The four watercolors were part of show I participated in last year that centered around valentine's day and love. The mixed media pieces were more of an experiment with different techniques and media.
Adam Matsumoto – Community Services Manager
I have been fascinated with taking pictures from an early age and photography has become a more purposeful outlet as the years go by. More recently I have begun to explore the National Park system, and capturing the natural beauty the country has to offer is a rejuvenating experience. Photography provides me with the inspiration to get out and explore! Gnarled Wood – Photo was taken at Saddlebag Lake, just outside the Tioga entrance into Yosemite National Park. Turning Aspens – Photo was taken on the west side of Convict Lake, south of Mammoth Lakes, CA.