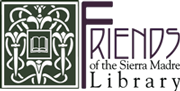 Press Release posted 5/21/14 – These hot temperatures lately remind us that it's time to stock up on our summer reading and the best place to do that is at the Friends of the Sierra Madre Library's Best Used Book Sale.  Held on Friday, June 6, 2014 from 3:00-7:00pm and Saturday, June 7, 2014 from 10:00am-2:00pm at the Sierra Madre Library, 440 W. Sierra Madre Blvd, Sierra Madre, the sale offers high-quality books that have been culled from the library's shelves or donated.
June's sale features books suitable for Father's Day including many on sports and automobiles.  A very special find is an archive from the 1984 Los Angeles Olympics that we suspect was from someone on the Olympic Committee since it contains lots of schedules and information for various countries.   In the basement we also have some charming "Women's Home Companion" magazines from the 1920s and a number of "Classics Illustrated" magazines from the 1960s and 1970s.  The Basement Table includes an assortment of newer non-fiction and fiction, including Tom Clancy's last book, and coffee table books on history, art, and cooking while the shelves offer many bargains on mysteries, fiction, and non-fiction.  Newer children's books in the basement range from $1.00-4.00
As always, in the back parking lot there will be $1.00 books on every subject, together with paperbacks,  25 cents each or 5/$1.00, and children's and teen's books from 25 cents to $1.00.  Come early for the best selection.
Proceeds from the Best Used Book Sales benefit the resources and programs of the Sierra Madre Public Library.  For more information, visit our website at www.sierramadrelibraryfriends.org  or call 626 355-7186.