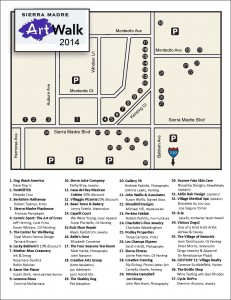 Press Release posted 6/4/14 – On Friday evening, June 6, from 5:00-9:00 p.m., downtown Sierra Madre will be bustling with creativity as local artists and musicians join with over thirty-five small businesses and restaurants to celebrate art and community during the Sierra Madre Art Walk (SMArt Walk).
In close collaboration with local businesses in downtown Sierra Madre, local artists and musicians will exhibit their work in studios, shops, and storefronts along Montecito Ave., Baldwin Ave., and Sierra Madre Blvd.    And of course, local Sierra Madre restaurants will be serving up their usual terrific fare, many of which will feature a "SMArtWalk special" for the evening.
There will be a free shuttle from the east Pasadena end of the Gold Line to downtown Sierra Madre that will run throughout  this event.  Pick-up will be where the buses load and unload to Kersting Court.
Download the MAP and show it to participation locations for discounts on this day.  A Map of the participating businesses may be downloaded by clicking the image above left, or by visiting SierraMadreArtWalk.com and more information is also available on Facebook at Facebook.com/SierraMadreArtWalk.