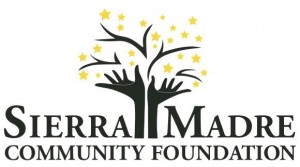 Press Release posted 6/27/14 – Memorial Park will be a boot stomping party this Sunday night June 29th from 6:00 – 8:00 pm as the Sierra Madre Community Foundation is the proud sponsor of this concert featuring a Johnny Cash tribute band named CASH UP FRONT.
"From atop a flatbed truck inside California's Norco State Prison to the fabulous Wiltern theatre in Los Angeles, Cash Up Front is a riveting, driving ensemble that plays the music of Johnny Cash like no other act! This Los Angeles-based quartet leaves crowds at theatres and festivals shouting for encores of its up-tempo renditions of classic hits and lesser-known gems that Johnny Cash made popular during his award-winning career."
Seating is on the green so bring those blankets and lawn chairs. Sierra Madre's very own Ice Princess will also be on hand selling her frozen treats.
Sierra Madre Community Foundation is a non-profit organization which encourages support of the community through philanthropic gifts. In the past year, Sierra Madre Community Foundation awarded over $15,000 in grants to the Sierra Madre community including the Sierra Madre Playhouse's student guide for the Battledrum production; an Eagle Scout project to rehabilitate all the wood benches in Sierra Vista and Memorial Parks; supplies and tools for the volunteers who maintain the hiking trails in Little Santa Anita and Bailey Canyons; sponsoring the Mt. Wilson Trail Race Kids Run, the Library's One Book One City and children's essay contest programs, a literacy protect with the Sierra Madre Middle School, and programs with the Creative Arts Group to bring art to local schools.
Additionally, working with Sierra Madre youth sports organizations, SMCF provided funding from special projects "Fix the Field" to install a drinking fountain, new fences, shade over the dugouts and a pair of bleachers in enjoying viewing the games at the Sierra Madre Elementary School field. SMCF also continues our partnership with the volunteers who organize the Sierra Madre 4th of July celebration. The SMCF Board will continue to look for opportunities to make Sierra Madre a great community.
You can learn more about the Sierra Madre Community Foundation and ways to support the mission at www.sierramadrefoundation.org.
For more information of the City of Sierra Madre's Concert Series please contact (626) 355-5278.