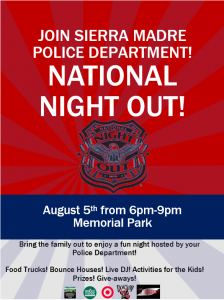 Press Release Posted 8/3/14 – The Sierra Madre Police Department will be holding the Annual National Night Out Event on Tuesday August 5, 2014.  This community and family oriented event will take place from 6:00 PM to 9:00 PM at Memorial Park, located at 232 W. Sierra Madre Blvd.
Please join us for a fun-filled evening with live demonstrations, safety and security information, Neighborhood Watch Programs, Animal Information from Pasadena Humane Society, Sierra Madre Search and Rescue, Sierra Madre Fire Dept., Music, Food Trucks, and Raffles.
Been needing to get your child finger printed for safety records? Well, be sure to come by and have your child photographed and fingerprinted and given two identification cards FREE of charge courtesy of New York Life Insurance Company!
Anyone with questions should contact Desiree Chandler or Elena Lozano at (626) 355-1414.