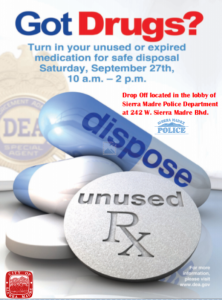 Press Release posted 9/23/14 – Do you or any family members have any prescriptions you don't use or that have expired? Not sure how to dispose of them safely?  Bring them in to the Sierra Madre Police collection site on Saturday, September 27th!
SMPD is partnering with the DEA to help get unused drug prescription out of homes and prevent them from reaching the streets and misuse. All prescriptions turned in will be collected, no questions asked, and then turned over to the DEA for safe and proper disposal.   The drop-off location is in the lobby of the SMPD at 242 W. Sierra Madre Blvd.
Please note, SMPD will only be collecting PILL FORM drugs. They are unable to collect liquids, gels, or syringes.