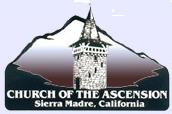 Press Release posted 9/23/14 – Sierra Madre's Village Church (Episcopal Church of the Ascension) will be holding its annual "Blessing of the Animals" ceremony on Sunday, October 12, 2014 at 11:45 am in the Outdoor Worship Area. Everyone is welcome.  Refreshments and pet treats will be provided.
Blessing of the Animals is conducted in commemoration of the October Feast Day of St. Francis of Assisi. St. Francis, arguably the most beloved of the named Saints, was particularly fond of animals of all breeds. The community is invited to bring your animals, no matter how big or small, breed or religion. Some animals may require a leash or a container, so keep that in mind. All of God's creatures are welcome! Free pet sitting available during the 10:15 am Mass.
Church of the Ascension is located at 25 East Laurel on the corner of Baldwin and Laurel in Sierra Madre.
This event makes for a wonderful family outing to meet new neighbors and check out a wonderful community church. For more information, please call (626) 355-1133 or visit: www.ascension-sierramadre.com.