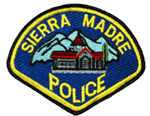 During the week of Sunday, May 15th, to Saturday May 21st, the Sierra Madre Police Department responded to approximately 273 calls for service. See crimereports.com for updated information.
Tuesday, May 17th:
4:48 PM- Petty Theft, 500 blk. Lotus Ln.  A resident reported that a hedge trimmer was stolen from her property.  The victim stated that a man had been staying at her house and when she asked him to leave he took the hedge trimmer without permission.
Friday, May 20th:
2:12 AM- DUI Alcohol/Drugs. Sierra Madre Blvd. and Kersting Ct.  An officer stopped a 24 year old El Monte motorist for a Vehicle Code violation and determined that the driver was under the influence of alcohol.  The driver was arrested and transported to Pasadena Police Department for booking.              
12:20 AM- Robbery, 200 blk. Sierra Madre Blvd.  A victim reported seeing a suspect walk into her backyard where he took recyclables from her trash bin and put them in his truck.  The victim confronted the suspect, who punched the victim and drove away with the recyclables in a light gray 2008 Honda Accord, license #6PRA516. The suspect is Jeffrey Stephenson, 48. 
3:26 PM- Make Annoying Telephone Calls, 600 blk. Oak Crest Dr.  A former boyfriend made annoying phone calls and sent text messages to the victim who had ended the relationship.
Saturday, May 21st:
8:19 AM- Grand Theft, 500 blk. W. Sierra Madre Blvd.  This case involves a victim in her 80's receiving a bogus telephone call asking her for money.  The suspect identified himself as a police officer and told her that her grandson had been arrested in Haiti and needed money to bail him out of jail.   The elderly victim complied and wired $5500 dollars through Western Union to Haiti.  The victim later discovered that her grandson was never arrested and that the call was a scam.
1:23 PM- Use Another's Personal Identification to Obtain Credit/Etc.  The suspect(s) stole the victim's banking account information and tried to cash three forged checks.  The suspect(s) also used the victim's debit card to steal $907.00.