Main Trail Race Page and Links to all 2011 Coverage
The 44th running of the Mt. Wilson Trail Race took place today, in commemoration of the 103rd anniversary of the first running of the race in 1908.  The field of 265 runners included 56 Sierra Madreans, and runners from as far away as England, as well as  Texas, Oregon, Georgia, South Carolina, Colorado, Nevada, and of course California.  The race, which sold out in record time this year, covers 8.6 miles, starting in downtown Sierra Madre on pavement for about a mile, than another 3.3 miles on the Mt. Wilson Trail up to the turnaround point at Orchard Camp, and a return trip that is just the reverse of the run up.  There is an elevation gain of about 2100+ feet in the 4.3 miles uphill.  The race is said to be the second oldest off-road race in the country.
Twenty-five year old Victor Rios of La Puente won this year, with a time of 1:06:31.  Thirty-two year old Sierra Madrean Kevin Koeper, who won the race three consecutive years, 2005 – 2007, came in second with a time of 1:08:32.  Third place was taken by 47-year old Alan Reynolds of Sausalito, with a time of 1:09:36.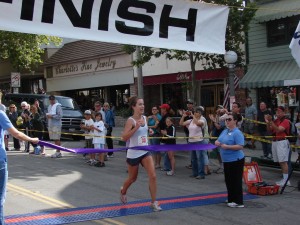 Hannah Briggs, 27, of Monrovia was fourth overall and won the Women's division with a time of 1:10:56.  Five time winner Sharon Pevsner of Sierra Madre came in second in the women's division, at 1:19:15, which was 17th overall.  Briggs fourth place overall is believed to be the highest placement ever for a Women's division winner.  Sierra Madrean Jill Liston placed third in the women's division, with a time of 1:25:27.
As stated above, Kevin Koeper was first overall among Sierra Madreans.  Fifteen year old Aaron Zambrano took first place in the 15 – 19 men's age division, and second place among Sierra Madreans, with a time of 1:11:07.  Fifty-one year old Nigel Rini came in third place among Sierra Madreans, with a time of 1:17:40.  Pevsner took first place among Sierra Madre women, with Liston taking second, and 41-year old Trish Marshall came in third among Sierra Madre women, with a time of 1:29:08.
For a complete, searchable index of Race Results, visit: https://www.runraceresults.com/Secure/RaceResults.cfm?ID=RCOK2011
The following shots were taken just before, during and just after the start of the race. Regarding the ones of the runners heading up Baldwin, from behind, I was at about Bean Town when I took those, zoom lenses are wonderful things, aren't they?  BTW, I took several hundred photos of the race today, so I will be adding several pages of photo galleries over the next couple days, be sure to check back.
Click on photos to enlarge.  All photos Copyright 2011, Bill Coburn