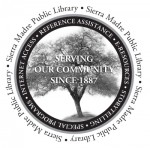 Press Release posted 2/8/15 – For those of you who aspire to be sleuths in the Philip Marlow tradition or writers in the style of Raymond Chandler, a scavenger hunt will have you tracking clues throughout Sierra Madre to qualify for some fun prizes. Entries are due by Feb. 28 at the Library. To celebrate the wonderful first-person narrative style of Raymond Chandler a "Write Like Chandler" contest is being held through February 13, with the winner receiving a dinner for two at a local restaurant and the finalist entries published in "The Mountain Views News." Visit the library for more information on how to enter these contests.
Third Thursday Book Group will be discussing The Long Goodbye and all are invited to attend on February 19 at 11:00 am.
Bloody Oranges!, a murder mystery Readers' Theater production of farce by Phoebe Conn, will star you and your fellow guests. Join us for A Murder Mystery Party on Saturday, February 28, 2015 at 7:00 pm. The event is free, but reservations must be made at the library by February 24, 2015.
Read, Discover, Connect @ Sierra Madre Public Library 440 W. Sierra Madre Blvd., Sierra Madre 91024, 626 355-7186, www.cityofsierramadre/departments/library.