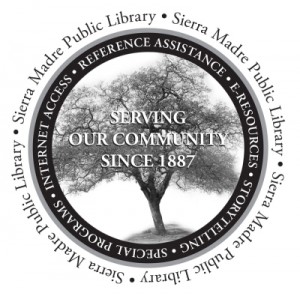 Press Release posted 5/7/15 – Adults, teens & children – get ready to sign up for Sierra Madre Public Library's Summer Reading Program — June 8 through August 10. Register anytime during this period and win prizes along the way.
Children read and record their books (print or e-Book), and prizes are awarded when each reading goal is met. Children enter one of three divisions: Beginner, for our very youngest patrons, who are not yet able to read on their own; Reader for school-age readers in grades 1 – 6; and Challenger for children in grades 2 – 6, who want a higher reading goal.
Teens read 8 books by the end of the program and earn prizes for every two books read.
Adults Enter to win a prize with every book read, (book, eBook or audiobook). Drawings weekly with a grand prize drawing at the close of the program.
Additional Fun Programs for all ages in June
Saturday, June 13, 10:00 am—Spin, Pop, Boom
Grades 1-6, experiment with the science of motion.
Saturday, June 13, 11:00 am—Local History Tour
Attend a digital tour of Sierra Madre.
Monday, June 15, 10:00 am—Sounds Like Science
Explore sound with a scientist— for ages 2-7.
Thursday, June 18, 11:00 am—3rd Thurs. Book Club
Suite Francaise by Irene Nemirovsky.
Saturday, June 20, 4:00 pm—Local Musician Almer Imamovic, Classical Guitar
Adults, enjoy an hour of free music by a local musician.
Wednesday, June 24, 4:00 pm—Anime Your Way
Grades 5-12 are invited to test their skills and learn from an expert Anime Artist for an hour of drawing, snacks, and music.
Saturday, June 27, 10:00 am—Mr. Twister
The whole family is invited to learn from an expert twister as he teaches his art. Everyone goes home with a balloon!
Saturday, June 27, 4:00 pm—Local Musician Abram Poliakoff, Guitar and Voice
Monday, June 29, 10:00 am—Move Like an Animal
Move and groove like an animal as we sing and play with our youngest library patrons. Recommended for ages 0-6.
Thanks to Friends of the Library, Kiwanis Club of Sierra Madre, Sierra Madre Volunteer Firefighters Association, and the Sierra Madre Woman's Club.
READ, DISCOVER, CONNECT @ SIERRA MADRE PUBLIC LIBRARY
440 W. Sierra Madre Blvd., Sierra Madre, CA 91024, (626) 355-7186, www.cityofsierramadre.com/departments/Library