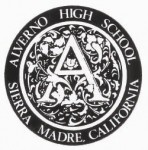 Posted 5/7/15 – The Alverno High School varsity softball team continued it's winning ways on Tuesday, defeating Sacred Heart of Jesus on SHJ's field.  Senior catcher Cailen Rodriguez led the way on offense, going 5 for 5, including 3 doubles and a triple.  She knocked in 2 and scored twice in the process. Junior second basemen Cameron Martinez scored four times while going 2 for 5 and reaching base twice on errors.  Freshman Isabella Fyson pitched four innings and gave up all three runs, two of them earned, and picked up the win, allowing only one hit, walking four while striking out 8.  Senior Hailey Saurenman pitched three hitless innings and got the save, striking out six.
Alverno is 9-0 in conference, and 15-4 overall.
Alverno is playing Ramona at home as this is being written, and there will be a non-conference game at Flintridge Sacred Heart High School on the 8th at 2pm.  Alverno is scheduled for a doubleheader on Saturday, against Marshall at 10am in LA on Paraclete Tournament Field #2, and against Faith Baptist at 2pm in Lancaster at the Desert Classic.